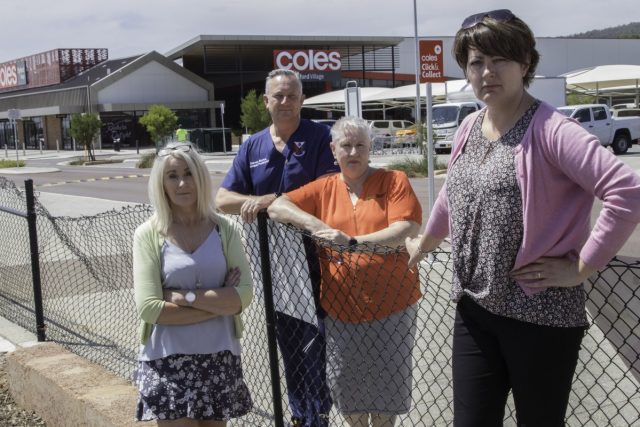 A four-foot fence, which has been erected between two shopping complexes in Byford, has been causing shoppers and business owners havoc since October last year. 
The fence, which sits between the Byford Market Place and Coles Byford sites, forces shoppers to either climb the fence or drive out onto Abernethy Road and drive about 40 metres along the busy road to get to the other shopping site, instead of driving freely between the two. 
The Examiner understands the fence was installed by Coles Byford and according to the Shire of Serpentine Jarrahdale chief executive Kenn Donohoe the shire is aware of the issue and is currently investigating potential solutions in order to resolve the matter. 
Byford resident David Houseman described the fence as a massive inconvenience for the community that could be resolved with a pair of wire cutters. 
"Coles likes to portray itself as a good corporate citizen, however actions speak louder than words," he said. 
"As an act of goodwill towards the community, removing a barrier such as a cyclone fence would go a long way towards achieving this." 
Occufam Medical Centre practice manager Gail said she watches on every day and sees children from surrounding schools climbing and squashing the fence to get between the two sites. 
"It is not keeping anyone from falling in a hole, there is no body of water around, it is just an ugly fence," she said. "I am just waiting for someone to hurt themselves. 
"Our main issue is that if we need to call an ambulance to the centre, they currently have to come through the doors that face the car park which would take two to three minutes as opposed to coming to our front doors which would be a 30 second exercise if the fence wasn't there. 
"In an emergency situation that is quite dramatic." 
SGB Podiatry owner Steve Burton said the fence had affected his business and his clients since he first opened in November last year. 
"You have got two multi-national companies bickering over a fence, which is completely ridiculous," he said. 
"The Byford Marketplace owners have been fantastic in trying to get the fence taken down but they are at a standstill." 
Coles were contacted for comment but did not respond before deadline.