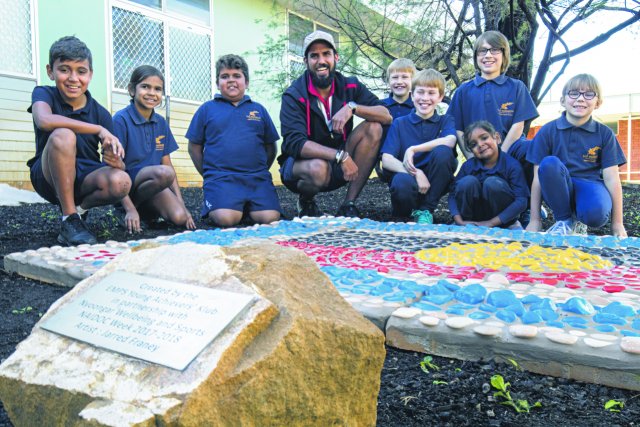 Students at East Maddington Primary School celebrated NAIDOC Week early during the last week of term embracing the culture, language, music and art of the indigenous community.
Deputy Principal Mary Andersen said the school, which previously partnered up with not-for-profit organisation Nyoongar Wellbeing and Sports, who help out with the school's Young Achievers Klub, put on a fantastic selection of activities for the weeklong celebrations.
"Our opening ceremony was hosted by the YAK students and featured a song entitled Wanjoo Wanjoo sung by indigenous singer Gina Williams, a performance by Aboriginal dancer Derek Nannup and a presentation by guest Delvene Cornwall," she said.
"Students also participated in a week of classroom activities and celebrations."
One of the highlights of NAIDOC week was the unveiling of a rock display, which was started last year by students and Nyoongar Wellbeing and Sports staff members Jarred Franey, Dylan Garlett, Katrina Jetta and Blake Little.
"Our students painted the stones with background colours and painted symbols on top," she said.
"The inspiration was drawn by the schools four factions, which are named after the surrounding rivers of our school grounds and the design has the Aboriginal flag in the centre."
At the start of the week's activities students enjoyed traditional bush tucker and baked lemon myrtle cakes and the whole school community gathered for a picnic where the students' artworks and activities were on display.
NAIDOC Week will be celebrated from July 8 to 15.
This year's theme is "Because of Her, We Can" which celebrates the essential role that women have played, and continue to play, as active and significant role models at the community, local, state and national levels.