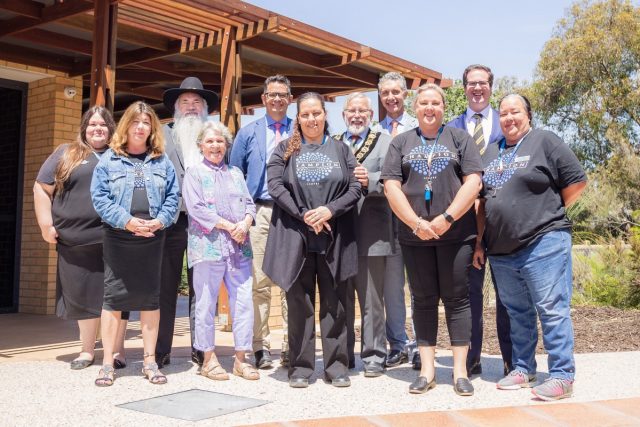 The region's Indigenous community now have a multi-million dollar building to call home with the construction of the Champion Centre finally reaching completion. 
The centre received a significant facelift, which saw the tired, former Police and Community Youth Centre (PCYC) transform into an architecturally designed facility that offers an inclusive, safe, neutral environment for all Indigenous families to access a range of information, activities and programs. 
Users of the facility were relocated to the nearby Harold King Community Centre for the past 18 months while construction of the new building in Seville Grove could be completed. 
Local Aboriginal Elder Vivienne Hansen vividly remembers taking her grandchildren to the old centre for the PCYC's blue light discos and gymnastics activities.
"After the PCYC moved out and the City of Armadale took over and employed Jodie Clarke to set it up as a meeting place for our community, I have come quite regularly," she said. 
"This is the hub for our community. 
"Everyone feels comfortable here, they know they are not going to be moved on and they feel safe. 
"It is our space so to speak and that is really important." 
Ms Hansen commended the City of Armadale's efforts in working with the local Indigenous community to deliver a facility that can be used by many generations of families well to come. 
"I would take my hat off to the council and I would recommend other councils come and have a look at what happens here," she said. 
"You can come together… you can walk together and talk together. 
"We can't forget the past, we have to acknowledge it and we have to own it but we can make a difference for the future and I think that is what is happening here in Armadale." 
The Champion Centre refurbishment and the community elements of the adjacent Seville Grove Library were funded by a $4 million Lotterywest grant.
The new building features a new kitchen, a children's room, friendly outdoor spaces and flexible workspaces, as well as artwork from local Aboriginal artists Rohin and Bradley Kickett and Matt Adnate. 
The centre delivers a variety of programs including the food security program in partnership with Aldi and Coles, a driver training program and several federal government funded Indigenous advancement strategy programs, which target children and young people. 
A public open day will be held next month.