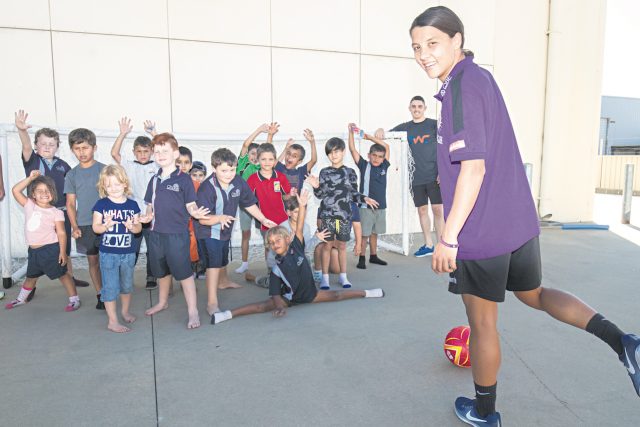 Australian soccer star Sam Kerr visited Armadale last week to support a program which helps children stay on the right path.
On December 7 Ms Kerr and her brother former West Coast Eagles star Daniel Kerr visited the Champion Lakes Christian Church as part of the Together We Can program.
Together We Can promotes social and emotional wellbeing amongst children and organisers aim to boost physical and mental health by increasing social and sport skills with the aim of steering them away from antisocial behaviour.
Mr Kerr is project manager at Together We Can and Ms Kerr who grew up in Fremantle before she rose to soccer fame said supporting Armadale children was the least she could do.
"I love working in the community and giving back," she said.
"When I was a kid I didn't get these opportunities."
Ms Kerr involved a large group of children in practice penalty shots outside the church, before a pass the parcel event and afternoon tea.
Ms Kerr who was awarded Australian Broadcasting Corporation's Sports Personality of the Year on December 12 has scored 19 goals in 57 appearances in the national squad and has played for state teams Perth Glory and Sydney Football Club.
She has also played for teams in America.
Having played competitive sport since she was a young girl and growing up in a sport-oriented family she said she had learnt firsthand the positive impact sport can have on social and mental wellbeing.
"Sport is my job but it lets me travel the world," she said.
"I've met some of my best friends through football.
"It's affected my life in the best possible way, not only through the success I've had but who I've met through football."
The City of Armadale is a supporter of Together We Can.