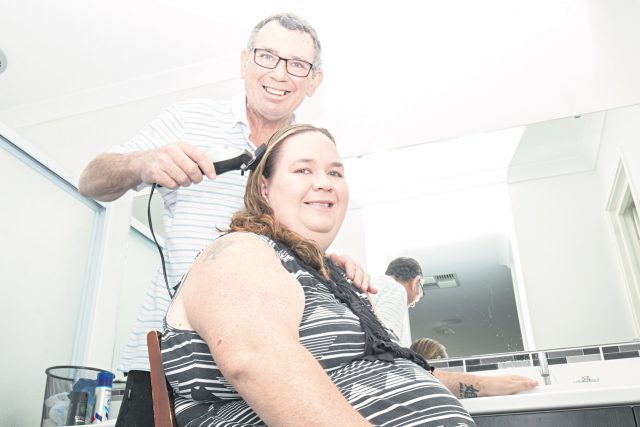 Belinda Fleming said her family's world was rocked when her father was diagnosed with leukaemia in January 2017, a piece of news that set off a long family journey through appointments and treatments to fight the cancer.
Now 12 months after he was diagnosed, Steve Burgess, 65, is on the path to recovery.
Following chemotherapy and two bone marrow transplants, Mr Burgess said he was glad to finally be on the mend – but it had not been easy.
"The treatment is pretty traumatic, chemo and bone marrow transplants tend to knock you about a bit," he said.
When he was diagnosed Mr Burgess said he was as healthy as any ordinary man, playing golf up to three times a week and was fit enough to tackle overseas holidays.
He said the sudden change in lifestyle and the real threat of fatal blood cancer shocked him and his family.
It was this eye-opening experience that motivated his daughter, Piara Waters resident Belinda Fleming, to do something to help other families like hers going through the same experience.
"We were a bit scared because we weren't sure what the outcome was going to be – it was quite worrying," she said.
Ms Fleming decided one way she could help was to participate in the World's Greatest Shave.
Now in its 20th year, the Leukaemia Foundation-backed event calls Australians to shave or dye their hair to raise money for blood cancer research, and also provides assistance to families who have a member living with the disease, like Mr Burgess' family.
The WGS has raised more than $200 million dollars since 1998, and more than 27 tonnes of hair was estimated to have been cut from Australian heads in that time.
Already Ms Fleming and her family have raised about $800 for the cause, and want to raise at least $400 more before the end of the month.
With her family through the toughest part of the journey, she said she saw the fundraiser as a way for ordinary people to support an important cause.
"It's great to raise awareness, and to support my dad," she said.
"It's a way of showing him that we support what he's going through."