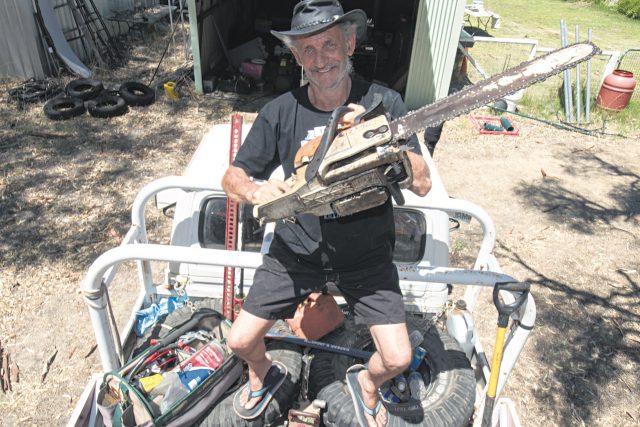 When Norm Heslington's uninsured car was stolen over the weekend filled with tools, he did not expect to get much – if any – of his things back.
So he was especially surprised when police found the car intact a day later, with tools, phone and money untouched, and only an old trailer missing.
"Everything was exactly as it should be, minus the trailer," he said
"The trailer was worth about $2.50, it was a rusty old thing."
At about 9.30pm on January 27 Mr Heslington, 67, pulled into Champion Drive Shopping Centre on his way through Armadale to his home in Wandi, near Aubin Grove.
Against common advice he left the keys in the car and walked off to get a coffee.
When he returned minutes later, the car had vanished.
"Everything was in my car; my chainsaw and my firefighting unit with a portable pump; petrol cans; tool box; mobile phone," he said.
He immediately contacted the police using a young man's phone who was sitting nearby, and less than 24 hours later Armadale officers located the ute a few kilometres away.
After the call he made his way to the site, expecting to find a car stripped of all valuables – but was surprised by what he found.
"It's parked, completely intact," he said.
"Everything was exactly as it should be, minus the trailer.
"My mobile phone was still in the cab, my chainsaw was still on the back, and my toolbox was still there.
"They'd removed my firefighter pump from the trailer and put it in the ute, as well as a petrol can.
"They didn't even take my lollies!"
Mr Heslington said the thieves had tried to take his radio but gave up and left it in the car along with their screwdriver.
"Clearly the person just needed a lift," he said.
He admitted it was a lucky escape, and said he wanted to thank local officers for promptly finding his car.
"The police were great," he said.
"There's good people in Armadale."
To avoid your car being stolen West Australian Police recommended parking in well lit areas at night time and taking your keys with you.
Close all windows and lock all doors, and remove any items which may attract attention of thieves.
Remove valuables from the glovebox and keep any spare keys on you instead of inside the vehicle.
Update
Mr Heslington said his trailer had been located on Owen Road in the Kelmscott industrial area.