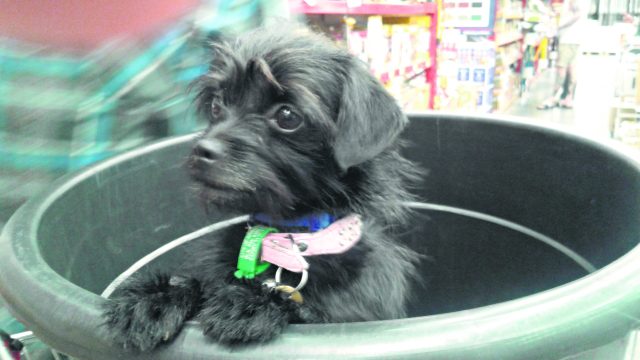 A woman has been bitten and a family pet had to be euthanised after a dog attack in Armadale last month.
Catherine Lockley was walking her 11-month-old Toy Poodle Chihuahua crossbreed Penny on September 23 in Seville Grove when the incident occurred.
Ms Lockley said at about 12.30pm on the corner of William Street and Challis Road, a large golden dog bolted toward the two of them.
"I kicked at the dog, screaming for someone to help," she said.
"The dog managed somehow to get Penny in its mouth and shook her like a rag doll.
"I also sustained a bite in the process."
A woman with children in a SUV and a man in a different vehicle pulled up during the attack to assist and managed to chase the aggressive dog away, but things did not look good for Penny.
"I had a bleeding, lifeless dog in my arms," she said.
"I was hysterical.
"The lady in the car told me to get in and she would take me to the vets."
Ms Lockley initially refused, desperately trying to resuscitate her dog.
However the woman insisted she go to the vet and took her to Railway Avenue Veterinary Hospital.
However when she arrived staff were not able to deliver any good news.
"The vet said she was hardly breathing and she was bleeding to death," she said.
Among several injuries, Penny's lung had been torn in the attack and she needed to be euthanised.
Ms Lockley also had to receive a tetanus injection because she was bitten and Armadale Rangers soon arrived to take photos of her wound, took Penny for evidence and collected the aggressive dog.
Ms Lockley's husband Robert, who was not there during the attack, said the incident had devastated his wife.
"My wife hasn't slept for four days, she's had to be sedated," he said.
Mr Lockley said he was told the person believed to be the aggressive dog's owner stood by during the incident and did not try to help.
He said the experience had overwhelmed his wife and demanded justice be served.
"People need to take more care of their dogs and if they don't the courts should impose greater penalties," he said.
He said he knew an elderly woman regularly walked the same area as his wife and if she had been involved in the incident it could have been worse.
Despite the horrific incident, the Lockleys wanted to thank the first responders for their support during the incident.
"I really want to thank the angels who came to my aid in the form of a beautiful lady and her children, she knows who she is and I pray the children are not traumatised," Ms Lockley said.
She also wanted to thank city employees for their work.
"The Armadale Rangers were caring and professional."