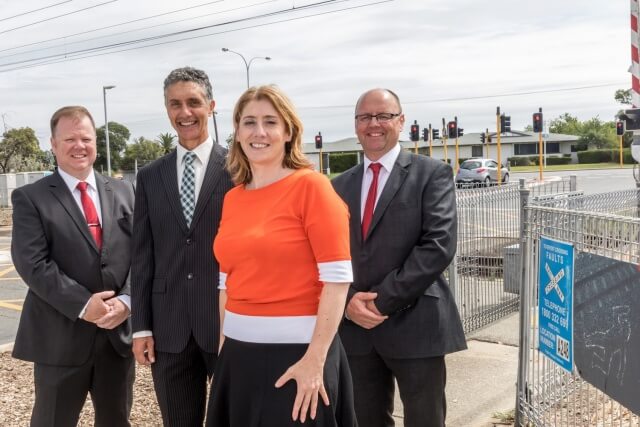 It's one of the worst stretches of road for accident per metre in the state and after decades of traffic headaches for local residents, Denny Avenue in Kelmscott is the closest it has ever been to being fixed.
On the weekend Shadow Transport Minister Rita Saffioti announced a $257 million program to grade separate four of Perth's worst level crossings and Denny Avenue was number one on the list.
If Labor were to win the March election, construction would begin in 2019.
The 190-metre stretch of road has been a political hot potato since 2015 with former Prime Minister Tony Abbott even describing it as a 'shemozzle' after driving through it during the Canning by-election.
All three of Denny's intersections feature in the City of Armadale's worst ranked list for crashes with 168 in the five years to 2015.
If the Streich Avenue and Railway Avenue intersections were added together the level crossing would be the worst for crashes in the state.
Ms Saffioti said Denny Avenue was chosen as the first level crossing to remove and separate road from rail because there was work already done and there were opportunities for development.
"As I'm aware it's a very busy intersection with the amount of school traffic, in particular, now you've got the additional commercial traffic and residential traffic too," she said.
"This needs to be done.
"It's an historic town centre and I think there's a real push now to create a village area and encourage the local businesses here.
"We really see this level crossing as a facilitator of development."
She said the party believed $257million would cover all four level crossing removals and grade separations.
Member for Armadale Tony Buti said the announcement was incredibly exciting. "This has been a longstanding sore for the local community," he said.
"The barriers from getting east to west and west to east are phenomenal and people avoid this area."
Armadale mayor Henry Zelones said he welcomed the funding announcement because it was one of the city's priority projects.
Camillo Action Group incorporated spokeswoman Sherri Richardson also welcomed the announcement because of the traffic issues residents were experiencing on a daily basis.
"The Camillo Action Group has heard reports of the crossing being dangerous, time consuming and confusing," she said.
"Families on their way to hospital are stuck for over five minutes at a time, other community members refuse to cross the intersection and must then travel quite far out of the way to reach their destination.
"Others have stopped shopping at stores adjacent to the crossing to avoid collisions with travellers who are turning illegally."
The last plan to address traffic issues was to create a tunnel under Davis Road to connect to Third Avenue.
According to Main Roads data the other three crossings which caused the most crashes and congestion were Wharf Street in Queens Park, Oats Street in Victoria Park and Caledonian Avenue in Maylands.
For more state election stories and candidate profiles click here.