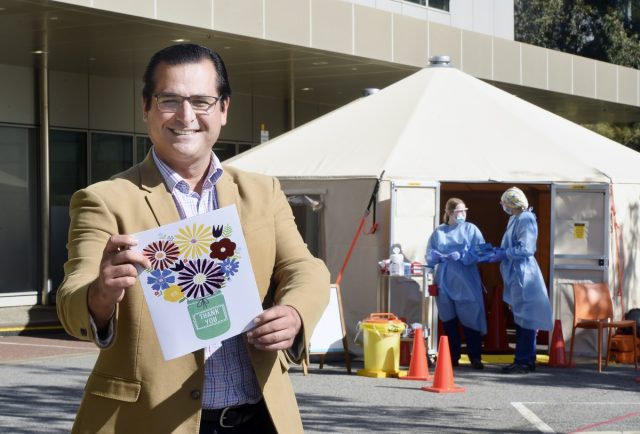 They're the heroes on the frontline, working day and night to keep the community safe.
Now, in the wake of the COVID-19 crisis, Member for Jandakot Yaz Mubarakai has called on the community to lend their names to a heartfelt 'thank you' to our hard-working healthcare workers.
Mr Mubarakai said he was extremely grateful to the local community for coming together to get through the COVID-19 crisis, and that healthcare workers had really stepped up to the plate.
To recognise this, Mr Mubarakai organised a giant thank you card to be presented to healthcare workers at Fiona Stanley Hospital filled with the names and postcodes of community members.
"The best of our community really does shine through in our worst moments," he said. 
"Due to the COVID-19 crisis throughout the past few months we've made sacrifices, and worked hard to confront the challenges it brought – I am grateful for this, and immensely proud of our community. 
"But I am especially proud of our healthcare workers.
"They rose to the call and were prepared to face the worst of this crisis – it's not over yet and they continue to keep our families safe.
"Doctors, nurses, orderlies, lab technicians, cleaners, caterers and more all serve sick Western Australians diligently, ensuring our hospitals are clean and safe, and have been undertaking a gigantic testing effort – we cannot thank them enough." 
So far more than 50 residents have signed the card, which is expected to be presented to the hospital's staff early next month. 
To take part in the card signing, visit yazmubarakai.com.au/thanks