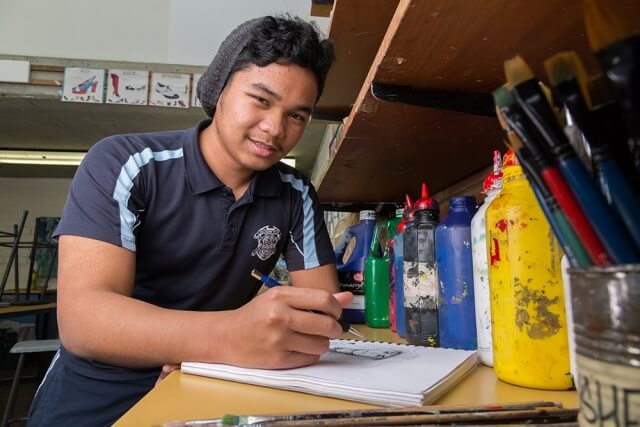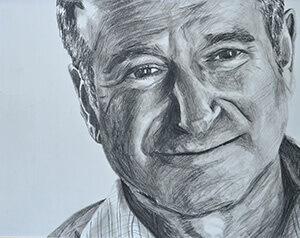 Artwork created by a Southern River College student has been selected to join the annual Young Originals exhibition at Edith Cowan University.
Year 12 student Jensen Valeros said he was surprised his drawing of Robin Williams because he almost missed the deadline.
"I work really quickly and I finished the Robin Williams in three hours but we had to submit an artist statement, which I didn't realise was due the day I did it," he said.
"Less than a week later I was told I got in so it was pretty good."
Jensen said he has always had an interest in art and started off drawing cartoon characters.
After taking art in year nine he learned shading and how to create more detailed pieces.
He decided on Robin Williams as a subject because he had always enjoyed his films and range of characters.
"I was sad when he passed away and it was even worse when I found out it was a suicide – I think he had a lot of issues," he said.
Jensen said he chose to depict him in happier times using charcoal because it was a more expressive medium.
He hoped to continue drawing because it was a rewarding hobby.
The Young Originals features the best artwork from secondary schools across WA.
Now in its six year, it is presented by ECU's School of Arts and Humanities and the Western Australian Secondary School Executive Association and supported by the Department of Education.
WASSEA president Janette Gee said the exhibition gave students a chance to display their art in a professional gallery.
She said as secondary school administrators, WASSEA members felt privileged to be involved in the celebration of emerging artists.
The exhibition will run at ECU's Spectrum Project Space in Mount Lawley until August 24.
It will be open from 10am to 5pm on Tuesdays to Fridays and 12pm to 5pm on Saturdays.