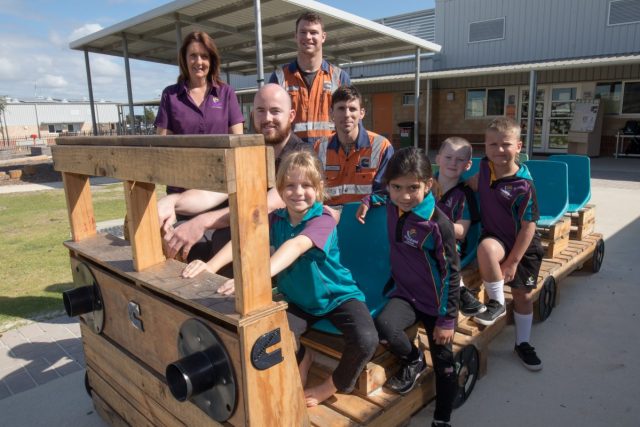 Early childhood students at a Byford school enjoy hopping on and off a creative bus each day, which has been made entirely from recycled products. 
Woodland Grove Primary School's newest piece of playground equipment is a highlight in the early childhood education area with children playing for hours on the up cycled bus made from old pallets, recycled plastic chairs and empty cable rolls.
Teacher Tanya Mills said she was approached earlier this year by an employee from Cummins, a diesel engine dealer, who explained to her that they would like to deliver an environmentally-friendly and sustainable project for the school. 
"We then gave Cummins a picture of what we would like and they have created an amazing bus for our students," she said.
"The bus provides an opportunity for our children to use their imagination and practice important life skills.
"We quite often hear the children hopping on and off the bus, role-playing as they imitate their own families."
Cummins field service advisor Jayde Ferrier said the design was very much a group effort. "The Cummins field service team had a lot of fun using skills they don't often get to harness to build something that can be enjoyed for years to come," she said.
"We are honoured the school allowed us to contribute in this way."