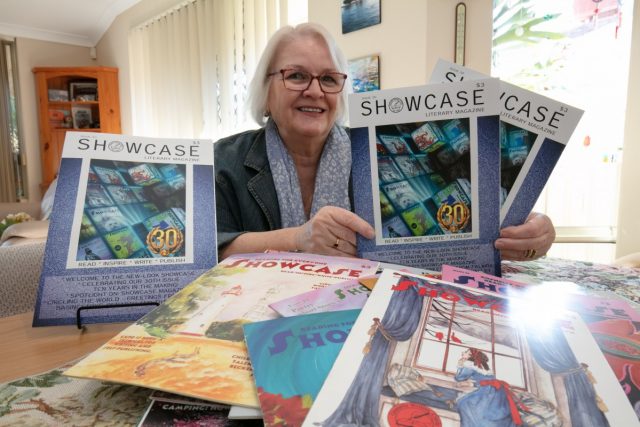 Since 2010 the Gosnells Writers Circle has published the Showcase magazine three times a year – earlier this month the 30th edition hit local shelves.
Showcase magazine provides an avenue for members to experience having their writings published, to give readers something local and unique and to show the community that Gosnells is a place of literary talent.
Author and public relations officer Barbara Gurney said publishing the 30th edition had been a huge achievement especially for a relatively small writing club.
"We know that the production of this magazine has stabilised our membership – many of our members have gone on to publish their own books," she said.
"Showcase magazine contains wide ranging stories from a very diverse group of members, which means there is something for every reader.
"The pieces are all magazine length making it perfect for a quick read on the train or with a cuppa, and especially good for those who find a large book challenging.
"Best of all, unlike gossip mags, a good story or poem never dates."
The first edition that came out in August 2010, had 22 pages with only the cover being in colour, while the latest edition has 37 pages with four pages of colour, and includes an international section, Circling the World and the Children's Corner which has morphed into Aspiring Authors.
"Highlights of the latest edition include a new branding which sees a new style cover, an artwork by Wendi Donabie displayed on the back cover and a bonus 35 pages of a wide selection of genres in fiction, poetry and true-life stories," said Ms Gurney.
"Also, students from the Southern River College have named and created the new logo for Aspiring Authors.
"Two emotional pieces were published by year 12 students – 'A Mother's Love' by Poppy McNamra and 'A Side of Couch' by Kaylee Smith."
The magazine is available from various outlets including Newspower Thornlie, Don Russell Performing Arts Centre, The Lucky Charm Southern River, The Pink Deli, Kelmscott, ARC – Armadale, My Little Bookshop, Canning Vale Newsagency and Lotto, Livingston Lot-o-luck.