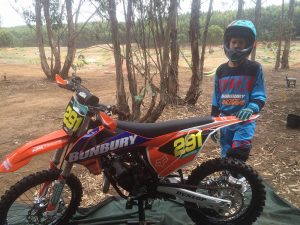 A 14-year-old rising star of enduro riding has been devastated after his bike was targeted by thieves on Sunday.
Nathan Howe, who reached the peak of his riding career when he came fourth in his age class at the Australian Off-Road Championships in South Australia last month, now faces being held back from competitions without his prized possession.
The Champion Lakes teen added to his string of success on Saturday after taking out his age class at an Off-Road Riding Club of WA competition in North Bannister.
The bike, worth $10,000, was stolen from a locked garage in Champion Lakes on Sunday night.
His mother Judy Howe said Nathan had reached a high point with his riding.
"He is absolutely devastated," she said.
"He's riding really well and that particular bike has had all the work done on it for him for racing.
"It has gutted him."
With a race coming up on July 16 and a dream of competing in every state next year, Ms Howe said it was important the bike was found.
"His goal is to compete for WA at a national level," she said.
"His mates, god bless them, are putting it up everywhere saying my mates bike have been stolen by these scum."
The bike, a 2016 KTM 125, has graphics including his name and number, a dent in the exhaust pipe, a steering damper and security identification.
Officer in charge of Gosnells Police Acting Senior Sergeant Rob Coales said investigations were continuing.
He said anyone with information should call Gosnells Police on 9398 0000 or Crime Stoppers on 1800 333 000.