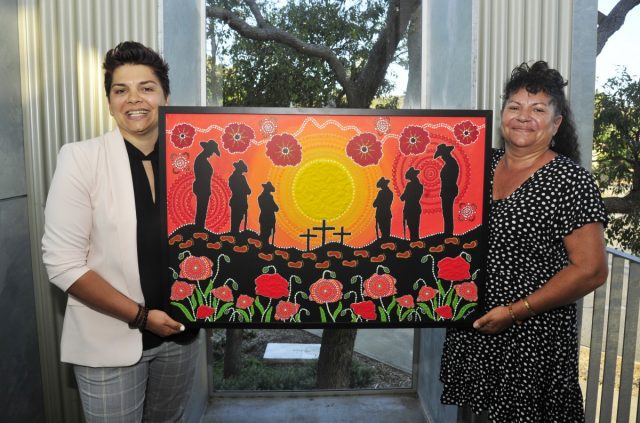 The talented artists behind leading Aboriginal Art business Yirrakurl have curated a special exhibit showcasing the region's history ahead of the centenary of the naming of Byford.
The launch of the exhibition, which coincides with this year's NAIDOC Week, saw dozens of local residents visit Byford Dome last Friday evening.
Noongar Aboriginal artist Melissa Spillman said the 28-piece exhibit was the product of several months worth of research into the history of Aboriginal heritage in the area and sites of significance.
Since then, Ms Spillman, her mother Deborah Newenham-Coertse and brother Benjamin Goebel have been spent countless hours painting in their Jarrahdale-based workshop – and painting onto photographs taken by local photographer Colleen Rankin.
"This one is a little bit different to what we would normally do in that we're celebrating the centenary of the naming of Byford," Ms Spillman said.
Aboriginal Art Exhibition. Photographs - Richard Polden.
"Many of the paintings here feature the stories that we have found as part of our research.
"It is really special to have locals recognise these places and learn of their true significance."
Deborah Newenham-Coertse began painting in 1994 before founding YirraKurl in 1998, an arts firm focused on designing, manufacturing and wholesaling Indigenous souvenirs and fine art to the tourist market.
After almost a decade running the business, Mrs Newenham-Coertse left to work in government.
But a life-altering car accident in 2011 left her with chronic pain and unable to return to work – something that Mrs Newenham-Coertse said reignited her passion for painting, which she found particularly therapeutic.
Ms Spillman said that she, too, had always had a passion for painting, but that it wasn't until this year that she had the opportunity to work on her art full-time and co-manage the business.
"This is my connection to my culture and it's therapeutic for me," she said.
"In the future, it's certainly something I'd like to pass on to my nieces and nephews.
"Working with family has its challenges, but we're learning a lot from our Mum.
"We're assisting each other and leaning on each other.
"My vision and hope for the future is to bring on other siblings and future generations and create a really strong family business."
The trio are working on a number of other local projects, including the upcoming Byford TedX event.
The exhibition will run until Sunday, November 15.
For more information, visit yirrakurl.com