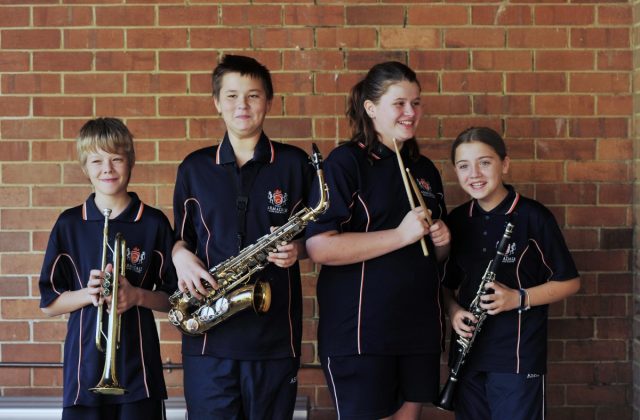 A group of students from a local high school will take to the stage later this month to wow audiences with their musical talents. 
Armadale Senior High's year seven concert band will perform at the school's performing arts centre on June 27, showcasing their talents on either a trumpet, trombone, saxophone, clarinet or percussion instrument. 
Music and design teacher Anea Duratovic said the performance forms part of the school's inaugural concert band program. 
"Learning an instrument through ensemble-based classes is not a technique used widely with only a handful of schools in Western Australia having implemented the same program," she said. 
"However to me it makes complete sense as music is a practical subject and so you learn it through playing an instrument, not through copious amounts of written work."
Ms Duratovic said the students are currently learning to play simple tunes such as nursery rhymes on instruments that have been donated to the school's program by generous members in the community.
"The advantages of studying an instrument are well known; a sense of achievement, emotional development and engagement in school are just some of the benefits I am witnessing as I run this program," she said.
"Being in a low-socioeconomic area I believe learning an instrument will be a crucial element in helping these students grow positively through their high school career." 
Ms Duratovic is hoping to receive more instruments in order to continue the program in 2020.
If you have any trumpets, trombones, clarinets or alto saxophones that are in good working condition, call the school on 9497 6459 or handover the instrument to the administration office.