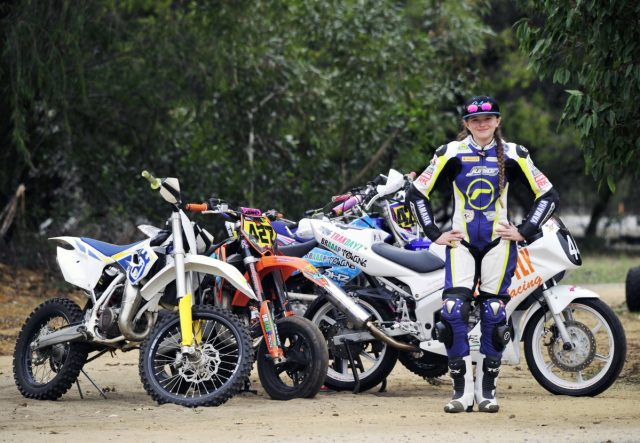 Pyper Kent swapped her dancing shoes for a motorbike at a very early age after she realised she preferred life in the fast lane competing against the country's best. 
The 12-year-old Oakford girl competes in three disciplines of motorsports including road racing, supermoto and motocross. 
Pyper's mother Sharon Kent said as soon as Pyper got her first quad bike at the age of six she decided she needed to race against the boys to show them girls can race too. 
"She would go to the public riding areas and would make sure each time she passed the boys there was never any chasing, it was always passing," she said. 
"Motocross was her first discipline, she loved the jumps, the dirt, the mud and going fast. 
"Supermoto was her second discipline of choice; she likes the speed of the road component of the track and the ability to really tip into the corners and scrape her pegs and sliders." 
Pyper decided to pursue the discipline of road racing last year as she was finally of age to get a license and has been hooked ever since. 
In 2018 Pyper competed in the Supermoto Nationals in Newcastle where she was placed eighth in Australia and number one junior female in the country.
Just this year she was selected as the only competitor from Western Australia to compete in the inaugural Oceania Junior Cup a junior road race academy aimed at developing Oceania's next road racing stars.
Mrs Kent said Pyper is hoping to continue developing her skills and aims to one day be a professional racer and join a factory team. 
"It hasn't been an easy journey for Pyper as it is a very male dominated sport even being told she wouldn't be supported simply because she is a girl," she said. 
"She would like to compete one day in the Asia Cup and then Australian Superbikes then MotoGP. 
"You never know one day she would like to have her own helmet range similar to the AGV series that Valentino Rossi has but naturally there will be a unicorn strategically placed on it somewhere." 
To follow Pyper's journey, visit her Facebook page.