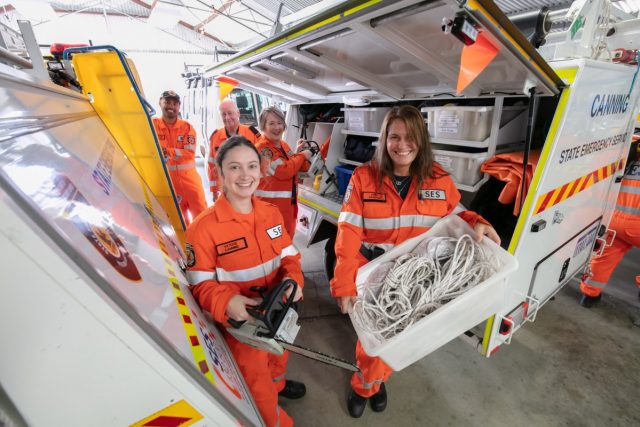 The Canning South Perth State Emergency Services' (SES) couldn't miss the chance to wear their emblematic orange uniform after working hours to celebrate National Volunteer's Week.
On May 20, the local branch hosted a "Wear Orange Wednesday" event to thank all SES volunteers across the nation.
With more than 2000 SES volunteers in Western Australia and 45 members contributing from the Canning South Perth branch, SES volunteers are ready to assist the community with a wide range of services.
The majority of these members are trained in front line operations with other members trained for communications and management roles.
Some of these members have been a part of the SES family for more than 10 years, such as local manager David Read who is now coming up to 15 years of volunteering with the Canning South Perth branch.
"I was encouraged to join by my father who was a long serving member of the SES, and as a child I was used in training exercises and wanted to be just like him," he said.
"As I grew older, I was able to finally join up to learn, train and inspire, and after 15 years I don't think I am going anywhere else.
"I enjoy the sense of family that each unit has but also feeling a part of the state orange family."
Some of the most significant responses that the local branch has assisted over the years include the 2010 hailstorms in March, a catastrophic event that lasted for a couple of days and caused more than $100 million of damage.
"We have also assisted in many searches for missing people and some members have been deployed to other regions of the state to support cyclone response and flooded areas," Mr Read said.
"We had members attend many air searches including Abby Sutherland and MH370.
"I also took a team to respond to a couple of earthquakes that struck inland WA a number of years ago."
Mr Read, who is now currently recruiting SES members and a Unit Welfare officer, is encouraging those older than 18 with interest in flood response, helping the community or those wanting to learn something new like training for searching missing people, to register their interest on canningses.net.au.