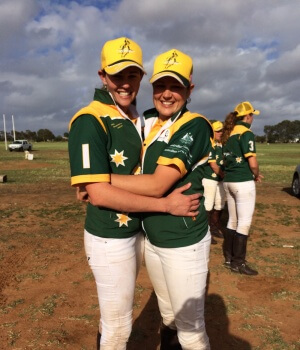 Suzette Thomas and her sister Elizabeth Reid will be representing Australia in a polocrosse test match against South Africa in April.
The former Jarrahdale resident whose family still lives in the Shire of Serpentine Jarrahdale said they have always been involved in horses.
"My uncle, father and grandad played in their back paddock," she said.
"I guess me and my sisters have kept the tradition going."
Ms Thomas and her three sisters who have strong links to the Serpentine Foothills Polocrosse Club, will captain the women's team in April.
"I'm really nervous and excited," she said.
"It's coming around really quickly."
Ms Thomas said she spends a lot of time training in preparation for the match.
"Polocrosse is like lacrosse on a horse," she said.
"We need to keep ourselves fit which we train for, we also train the horses and we practise our hand eye coordination because we are using a racquet."
This is the fourth time Ms Thomas is representing Australia and the second time she is captaining the team.
Ms Thomas said she is looking forward to the Polocrosse World Cup, which will be held in Queensland in 2019.
"The test match is the lead up to the World Cup," she said.
"Depending on how we do here we will be picked for it.
"It's all pretty exciting and I'm looking forward to it."