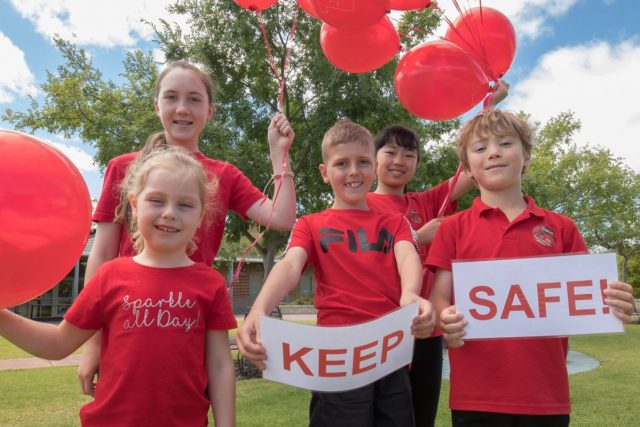 Bletchley Park Primary has done it again by collecting $1,346.25 in gold coin donations and icy pole sales to donate to the Daniel Morcombe Foundation (DMF) as part of
the Day for Daniel initiative.
Day for Daniel is the initiative of Bruce and Denise Morcombe whose son Daniel was abducted from a bus stop in Nambour on the Sunshine Coast in Queensland and subsequently murdered in December 2003.
The Morcombe's founded the Daniel Morcombe Foundation and vowed to make it their mission to educate children and adults about child safety and protection initiatives.
On October 25, 953 students and 100 staff from Bletchley Park Primary School wore red
and decorated the school with banners, balloons and DMF bunting.
Year 2 teacher Heather Faulkner said talking about the initiative holds an important
message to pass on to the students.
Day for Daniel coordinator Sandy Kerr said there were a number of lessons delivered directly to the Daniel Morcombe Foundation website and printable resources.
"They included lessons on cyber safety, how your body reacts in an unsafe situation, what
you should do if your body gives you those clues and who you can tell if something happens," she said.
"Also setting up code words with your family for when you are separated and/or approached by a stranger."
Ms Kerr said this is the biggest fundraiser of the year and the ultimate aim of the foundation is to keep children safe.