An 80-year-old local sailing legend who departed the Fremantle Sailing Club last year to go on his 11th Solo Circumnavigation, has now completed half of his tour and gave The Examiner an insight into what it's been like during the pandemic.
Jon Sanders departed in October last year on a journey that would take him between nine to 12 months, sailing more than 27,000 nautical miles and stopping at 11 ports.
The first man to circumnavigate Antarctica solo and circling the continent twice in his yacht, the Perie Banou, began his 11th solo world tour as part of a Curtin University research project to measure the amount of microplastics in the Southern Hemisphere's oceans.
The initiative is part of Minderoo Foundation's No Plastic Waste movement, managed by Dr Stephen Davis in conjunction with Curtin University, Fremantle Sailing Club and Royal Perth Yacht Club.
Little did he know a pandemic would suddenly strike in the middle of his voyage, but this didn't stop Mr Sanders' mission to collect water samples as part of his research.
For almost a month, Mr Sanders has been anchored in lockdown in the Caribbean lagoon of Sint Maarten and is now concerned for his next stop in the Panama Canal.
"You never know what may happen on a voyage, so long as I am isolated, I am okay," he said.
"Quarantine started out okay, not much different to sailing by myself.
"I was able to go to a local store near the marina to top up basic supplies, including fuel.
"I don't mind my own company, I varnished woodwork, serviced winches and kept busy but after a few weeks I sort of ran out of jobs and varnish.
"I have been sitting so long at anchor here in Sint Maarten I have had to lift the yacht out of the water to clean the bottom and paint it with antifoul – that gave me something to occupy myself with.
"It's now back in the water and I hope to leave St Maarten around June 6 before the hurricane season hits.
"The Panama Canal is a bit of a concern, I have to take on board a pilot and four hands to take me through the Canal, it is compulsory – there is no choice in the matter.
"My yacht Perie Banou II doesn't have too much room in the cockpit and on deck for five crew plus me.
"There is not much of a chance to practice social distancing, so I sure hope they are all in good health."
Panama has reported about 12,000 cases and more than 300 deaths. Infection rates seem to be climbing according to Mr Sanders, who will have to spend 14-days at anchor in quarantine before entering the Shelter Bay Marina where he can reprovision and book a Canal transit.
Mr Sanders intends on departing the Canal mid-July and to go on a 40-day sailing trip to the Marquesas in French Polynesia and another nine days to Tahiti around the end of August or early September, depending on the COVID-19 situation.
"I had intended to sail to the Marquesas and then on to Tahiti but stopping at the Marquesas would mean another 14 days quarantine," he said.
"That's the problem now with every stop I make, I need another 14 days of quarantine. "So, we are thinking about reducing the number of ports.
I am really only stopping to send back the water samples."
However, Mr Sanders stated that nothing had really affected the research as he normally takes water samples at 11am local time.
"The pump and filter are mounted on a forward bulkhead below deck so it doesn't matter if the weather is rough or seas are up," he said.
"I am safe and dry inside taking the water sample.
"When I reach the next port, I will send the samples off by courier to Curtin University for analysis.
"Even though I am stuck here at the moment I have sampled the water every day of the voyage and I am now half way around the world – So the water sampling has been a great success so far."
Although Curtin University hasn't released the data collected from Mr Sanders' journey, the local sailing legend said the equatorial regions of the world seem to have a lot more rubbish circulating in their oceans.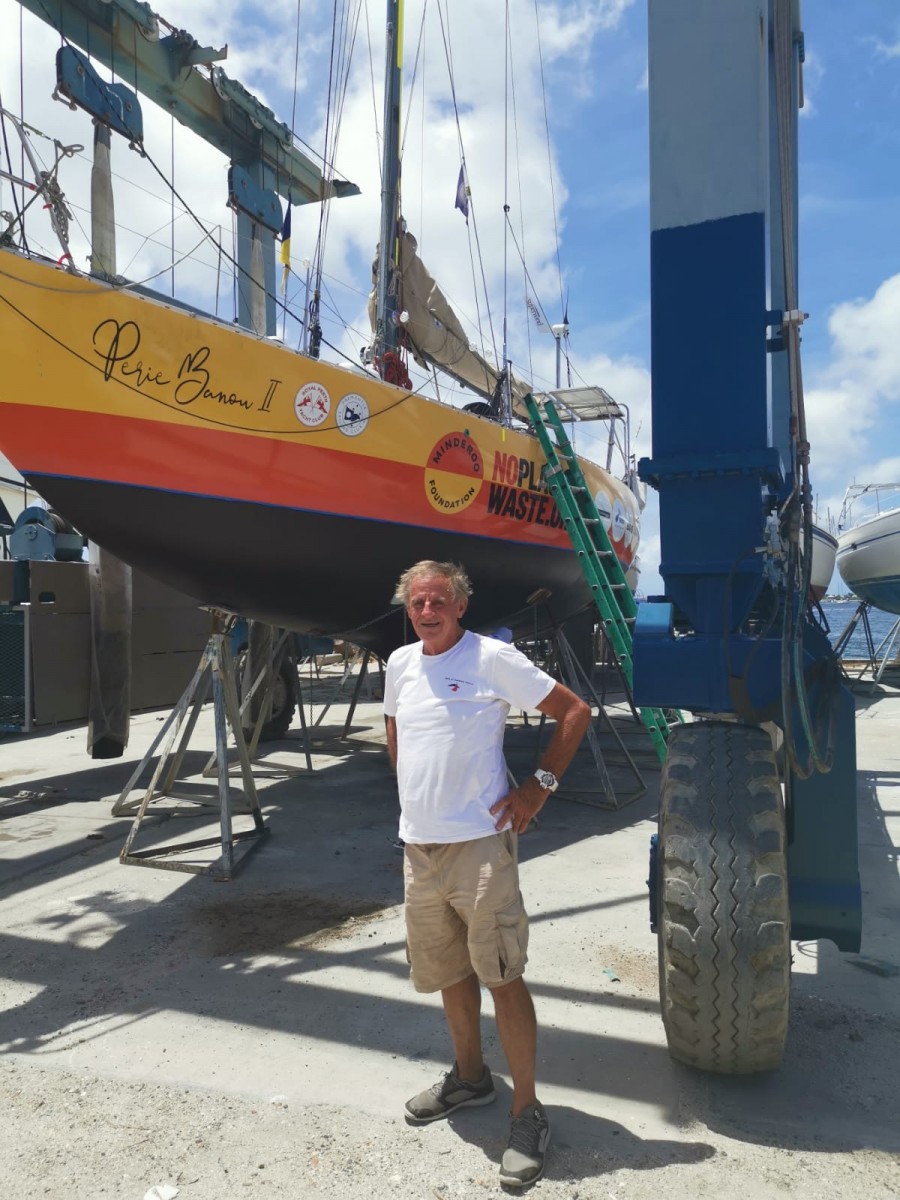 "I think we are pretty fortunate in Australia, and particularly southern areas of Australia because of the Southern Ocean currents," he said.
"When I have sailed through SE Asian waters there's plenty of plastic and other rubbish in the water. "Some beaches are littered with it.
"The problem seems to be that with something like eight to 15 million tonnes of plastic being poured into our oceans every year and very little coming back out, the potential for problems is growing pretty fast.
"Only about five per cent of microplastics are floating near the surface, most is drifting down or already on the ocean floor.
"Sea birds feed microplastics to their young, fish eat microplastics, turtles mistake plastic bags for jelly fish and make a meal of it – all of this plastic beaks down to microplastic.
"But we really don't know how much is in our oceans.
"So that is what this voyage is all about, measuring the amount of microplastic in the oceans of the Southern Hemisphere and creating the first, accurate baseline of marine microplastics."
Anyone interested in tracking Mr Sander's satellite position can visit jonsanders.com.