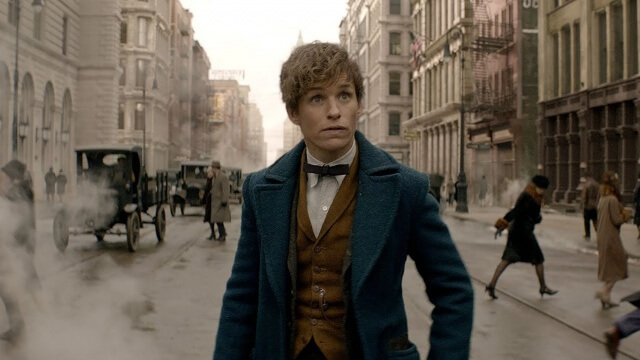 A gripping story coupled with charming characters and creatures makes the newest foray into J.K. Rowling's Harry Potter universe Fantastic Beasts and Where to Find Them a satisfying adventure.
The screenplay for the spinoff was written by Rowling herself and was based on the fictional textbook in the Harry Potter series of the same name.
Set in the 1920s the film follows the exploits of English wizard and beast enthusiast Newt Scamander (Eddie Redmayne) and his journey to the USA to return an elephant sized Eagle to its home in Utah.
He arrives in New York City at the same time a xenophobic rift is emerging between no-majs (the American term for muggles) and the magical world.
As a result of the tensions the Magical Congress of the USA (the US equivalent of the Ministry of Magic) has banned magical creatures and heavily restricted mingling between the two races.
This puts Newt in a predicament given his magical suitcase contains a menagerie of quirky and cute creatures.
Newt falls into even greater trouble when he is named as a prime suspect when a dark and powerful creature starts causing havoc in the city.
With the help of no nonsense congress public servant Tina Goldstein (Katherine Waterston), her bombshell sister Queenie Goldstein (Alison Sudol) and hapless no-maj Jacob Kowalski (Dan Fogler) they crack the mystery and loosen the magic lockdown imposed by the congress.
While I'm no devotee to the Harry Potter franchise I was a fan and director David Yates, who directed the last four movies, has again captured all the wonderment and quirkiness you'd expect from a world filled with magic.
The characters, sets and effects nail the feeling of 1920s New York and for Potter fans the film will satiate their wonder about what the magical world is like in a different country.
The film had me with its creatures.
A little Niffler, which can only be described as a gold hoarding platypus, escapes Newt's briefcase and causes havoc at a bank.
What ensued was funny and endearing and will possibly make Newt one of the franchise's most loved characters in the anticipated Fantastic Beasts series.
Warner Brothers
Rating: 4 out of 5 stars
Rated: M
In cinemas now