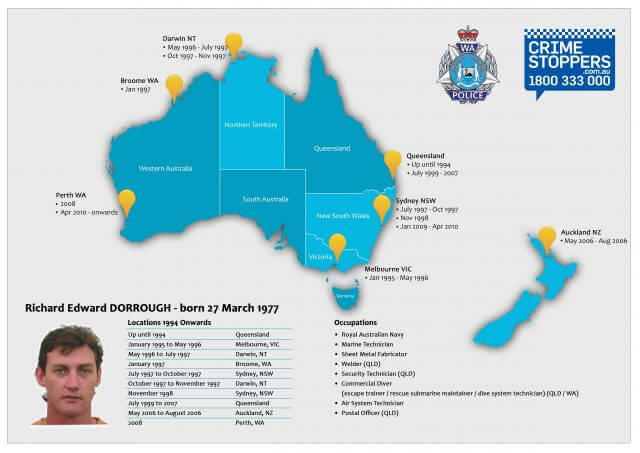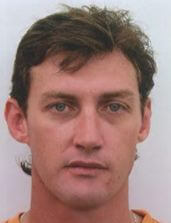 WA police have launched a nationwide appeal for information about a suspected serial killer who lived in Byford until his death last year.
Former Australian Navy sailor Richard Edward Dorrough died after shooting himself at the lone ranger shooting complex in Belmont on August 9, 2014.
Following the 37-year-old's death police reportedly found a handwritten suicide note at his Byford home in which he confessed to killing three people.
Police believe his victims included Broome woman Sara Lee Davey, who was killed in 1997 and Sydney woman Rachel Campbell who was killed in 1998.
The identity of the third victim remained a mystery.
Ms Davey was last seen on January 14, 1997 when she picked up a handbag from a house in Saville Street, Broome, where she had been staying for a few days.
She reportedly told relatives she would return later.
The car she was driving was never found.
At the time Mr Dorrough, who was then 19, was in Broome on shore leave from the HMAS Geelong when he reportedly met Ms Davey at a nightclub.
A taxi driver later told police he drove the pair to Broome Port.
Ms Davey was never seen again.
Police interviewed Mr Dorrough, who was labelled a person of interest in her disappearance but charges were never laid.
Investigations into her disappearance stalled although in 2006 Ms Davy's brother Dennis told the Age he believed convicted killer Bradley Murdoch could have been involved.
Mr Murdoch lived in the region at the time of Ms Davy's disappearance and was later convicted of killing British backpacker Peter Falconio.
Police announced they would investigate possible links between Mr Murdoch and Ms Davey's disappearance but none were found.
An inquest into Ms Davey's disappearance has been scheduled for April 2016.
On November 7, 1998, the body of 29-year-old sex worker Rachael Campbell was found in a church car park in Sydney.
Ms Campbell had been stabbed in the neck several times and there were bite marks on her arms.
Investigations into the murder stalled and Mr Dorrough, who had lived just kilometres away from the crime scene, moved away.
In Queensland in 2000 he was charged with attempted murder after deliberately running down a pedestrian with his vehicle.
He was subsequently convicted of acts intended to do grievous bodily harm and sentenced to five years jail with a 12-month minimum.
Mr Dorrough was released in 2001 and his DNA was entered into a national database.
That DNA was matched to two used condoms and other items near Ms Campbell's body in 2008.
He was extradited from WA to NSW to face trial for her murder in 2009 but was acquitted after arguing that her ex-boyfriend was the likely killer.
Mr Dorrough has lived in almost every state as well as New Zealand making the search for his third victim difficult.
WA state crime assistant commissioner Michelle Fyfe said police were now asking for public assistance regarding his movement across Australia and New Zealand over the past 20 years.
"This special crime squad has been in close contact with cold case teams in other police jurisdictions where Dorrough lived or visited during that period but so far have been unable to establish a link with any unsolved serious offences," she said.
"It may well be that members of the public who associated with Dorrough have the information we seek and we urge them to come forward now."
Anyone with information was asked to call Crime Stoppers on 1800 333 000.
Information provided to the national hotline would be examined by the appropriate jurisdiction in consultation with WA police.