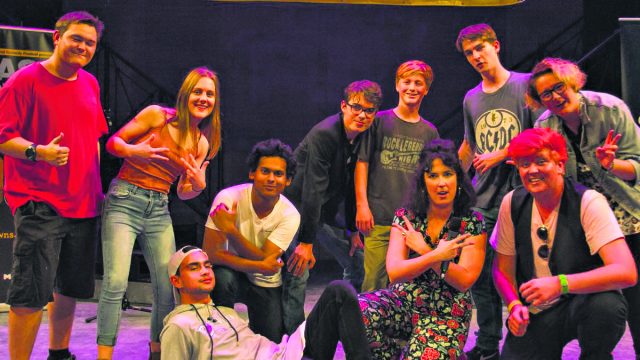 Making people laugh is a noble goal, but building an organisation built on that premise is another level.
That's what Gelo Company hope to prove when they bring their lauded DIY Comedy Crash Course to Bentley Library on October 3.
Designed for budding comics aged between 13 and 16, the workshops have a very simple premise – throw you into the fun of stand-up while breaking down any nervous notions of the process.
Gelo program coordinator Rosie Kingdom-Barron said the workshops were built from the ground up for young people, with a keen eye on how daunting comedy can be for newcomers.
"Everything we work on with young people is around transforming their lives through comedy," she said.
"Humour is all about empathising with ourselves and with those around us and is a great tool for improving mental health.
"Other life skills include building confidence, dealing with failure, encouraging creativity and connection.
"Our DIY Comedy workshops cover sketch comedy, improvisation and stand-up and come in the form of a two-hour power session or a six-week program honing in on a particular form of comedy."
Gelo Company also runs Class Clowns, the Melbourne Comedy Festival-coupled program, which sees teenagers perform original material in front of an audience, with the potential opportunity to perform in Melbourne at the fest itself.
There's also plenty of talent involved in mentoring young comedians as well, with recent Best Newcomer at Melbourne Comedy Festival 2018 Nadia Collins lending her expertise.
"We often work with members of The Big-HOO-HAA! to run these workshops, and as well as being a brilliant improviser, Nadia is a stand-up comedian so she is a mentor that is practicing what she preaches," Ms Kingdom-Barron said.
"Nadia has run many workshops with young people from different backgrounds for the past couple of years and has seen the positive impact on groups of young people and individuals when they enter a space that rewards being a 'class clown'".
All in all, with the workshops set up, Ms Kingdom-Barron said all that's really left to the talent themselves is the confidence to give it a go.
"Bring an open mind, a willingness to try something new, and the courage to say the first thing that might come into your head," she said.
"Experience levels of all types will have something to contribute so don't feel like you have to have a list of jokes already.
"If you do, brilliant!"
The DIY Comedy Crash Course will be held at Bentley Library on October 3 from 10am.
RSVP to Gelo Company via Eventbrite is essential.