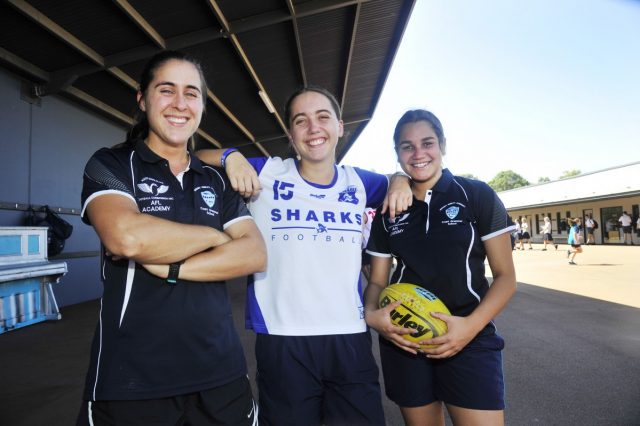 More than one hundred students are learning the tricks of the trade this year from two experienced footballers including AFL women's superstar Gabby O'Sullivan. 
About 180 boys and girls from Court Grammar School will take part in this year's AFL academy at the Mundijong school where they will learn the ins and outs of the game from Fremantle Dockers player and teacher Ms O'Sullivan and former East Fremantle player and physical education teacher James Bristow. 
Ms O'Sullivan said the academy has grown from strength to strength since starting in 2017 with just 74 students.
"The program ranges from years five to 12 with each year group training at least twice a week as part of elective subjects during school hours," she said.
"We will have our first graduates of the program at the end of this year, as the oldest members of the academy are still in year 11 and 12 so we look forward to witnessing their progression through to senior ranks in the coming years."
Ms O'Sullivan said she has enjoyed seeing the progress the students have made, in particular some of the girls who have not only gained confidence but also a real love for the game.
"We have seen more girls becoming active and joining sporting clubs outside of school through their involvement in the academy," she said. 
"It's great for the girls to have exposure to an elite program and a clear pathway from the junior to senior level.
"If football is something they wish to pursue as a career after high school, they have the opportunity to experience high level training and game styles at school." 
Applications for the 2021 intake trials are open until April this year. 
For more information visit the school's website.