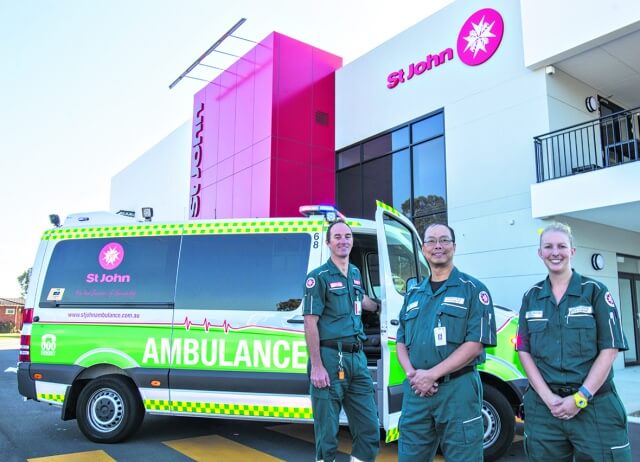 A new St John Ambulance facility has opened up in Albany Highway, Kelmscott this week, which will provide a link between health services in Gosnells and Armadale.
The facility at 3 Turner Place houses eight ambulances and has about 60 staff.
The five-block depot included modern training rooms, a kitchen and office area.
The building was completed in December last year and held its first training course on March 1.
It had been fully operational since March 12 but on Monday was officially commissioned and officials said it was completed on time and under budget.
Member for Armadale Tony Buti was at the opening and said he was proud to be able to officially open the facility.
"We all know what a great organisation St John Ambulance is," he said.
St John Ambulance WA chief executive Tony Ahern said the building would be a great benefit to the community.
"In terms of the ambulance operation it allows us to get a better ambulance response time over the broader area," he said.
"There are five emergency ambulances here, two patient transport vehicles and one event services vehicle."
Mr Ahern said the training rooms were large enough for 50 people to learn first aid at any one time and the modern facilities would encourage volunteers to get involved.
However the building has already been the target of vandalism within weeks of opening and several windows were smashed after a party nearby.
The damage was repaired quickly and further security measures would be installed in the coming weeks.
Des Franklin, 86, was one of the earliest founders of the ambulance system in the Armadale area and said he was proud of how far the service had come.
He said the ambulance service had humble beginnings in 1947 and was a lot more streamlined now.
"All the Armadale side of it was done by volunteers," he said.
"We raised the money, we built the buildings and we paid for the buildings.
"The whole thing was done here.
"A lot of the ladies here today used to make cakes and run cake stalls on the weekends to fundraise."
A St John Ambulance spokesperson said the next facilities to open would be in Fremantle and Ellenbrook.