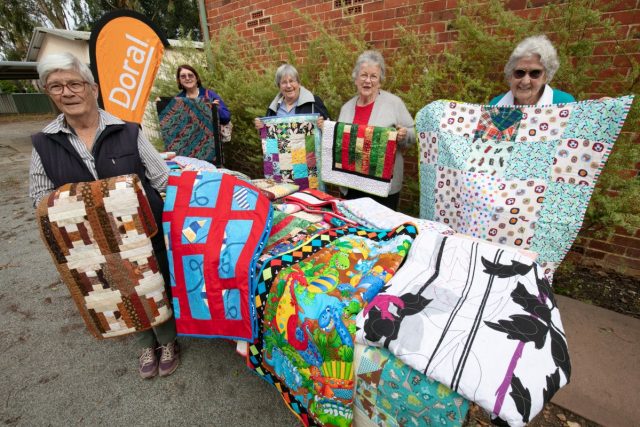 For the last 12 months, the Mundijong Arts & Crafts Group has been working tirelessly to produce quilts for those in need. 
Last week, members of the group gathered at the Byford Uniting Church to deliver the last of 200 quilts for those accessing the church's crisis care services. 
WA-based mining company Doral donated $1000 towards the cost of the quilts, subject to 200 being made within 12 months. 
The group's members stepped up to the challenge, repurposing old fabrics and delivering batches of 50 quilts every three months. 
Though the COVID-19 social distancing measures may have stopped members from gathering at their venue in the old railway station, it didn't stop the keen quilters from keeping their promise. 
Mundijong Arts & Crafts Group president Jan Johnson said she was proud of the group's members and insisted that was not the end of the donations, stressing that there were many in the community doing it tough in the wake of the coronavirus pandemic. 
"They're a very, very keen group of quilting ladies," she said. 
"For the last few months, we've been busy doing this from home. 
"With COVID-19 settling down, and the easing of social distancing restrictions, I hope we can get back to sewing at the centre together again. 
"They're beautiful quilts – the more you look at them, the more work you see. "It's hours and hours of work for each one. 
"I'm just so proud of the members and how they persevered, even when we couldn't go to the centre. 
"They kept working and getting those quilts done for Doral and for Crisis Care, because it desperately needed the quilts. 
"Of course, there is an even greater need for this now with everything that is going on." 
The group has met on a monthly basis for more than three decades, hosting a book club, crafting activities and quilting. 
Mrs Johnson said the group's monthly meetings provided an opportunity for its members, most of whom are retirees, to socialise and learn new skills.