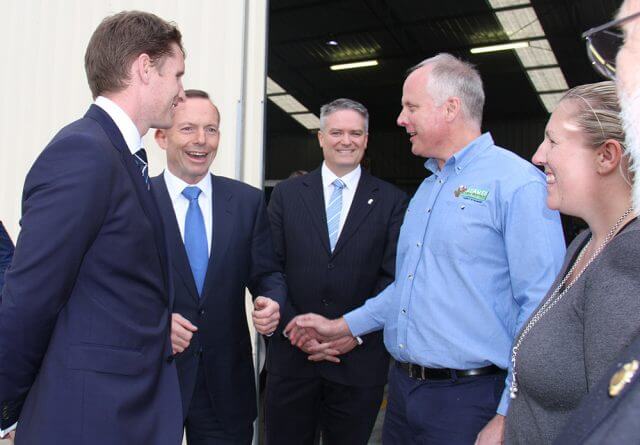 Prime Minister Tony Abbott experienced congestion at Denny Avenue, Kelmscott today and Canning candidate Andrew Hastie hopes he can get a commitment for funding a solution to the issues before September 19.
It comes on the back of Mr Abbott visiting Kelmscott to announce joint funding with the state government of $145 million for the Armadale Road duplication between Anstey and Tapper roads.
The announcement was made this afternoon to Business Armadale representatives and mayor of Armadale Henry Zelones, with the federal government chipping in $116 million and the state government $29 million.
After the press conference Mr Hastie lead Mr Abbott in a three-car motorcade to his campaign office at Stargate shopping centre via Denny Avenue.
Mr Hastie said Mr Abbott's car got stuck as the boom gates came down for a train and a downpour meant conditions were at their worst.
Mr Abbott arrived many minutes after Mr Hastie because of the congestion on the notorious stretch of road.
"He said it was a shemozzle and how bad it was," Mr Hastie said.
"I took him through there so he felt it first hand and he saw it."
When asked if he could possibly get funding for Denny Avenue before Saturday's by-election, Mr Hastie said: "I hope so".
"I have heard a lot about Denny Avenue from people who use it every day.
"There is a long history of accidents and people get held up going through there.
"It's a $70 million project and Labor has offered $25 million.
"Bill Shorten is throwing imaginary money around but the $116 million is real funding … as I have shown today, we have to see real solutions and the same goes for Denny Avenue."
Mr Hastie said he was 'stoked' to have Mr Abbott back in Canning again and happy to announce funding for Armadale Road.
"It was great to deliver this today, the mayor had a huge grin on his face," he said.
"It is just a foretaste of what I may be able to do if I am elected. It is about delivering.
"Really it's not about politics it is about making life better for the people of Canning."
Mr Abbott did not say if he would fund Denny Avenue.
"After the Armadale Road duplication announcement, Andrew Hastie asked me to follow him through the Denny Road intersection to see first-hand the traffic and train congestion issues that he had told me about on my previous visit," he said.
"Andrew is committed to working with the state and federal governments to find a solution to this problem and he's the sort of person who won't rest until it's done."