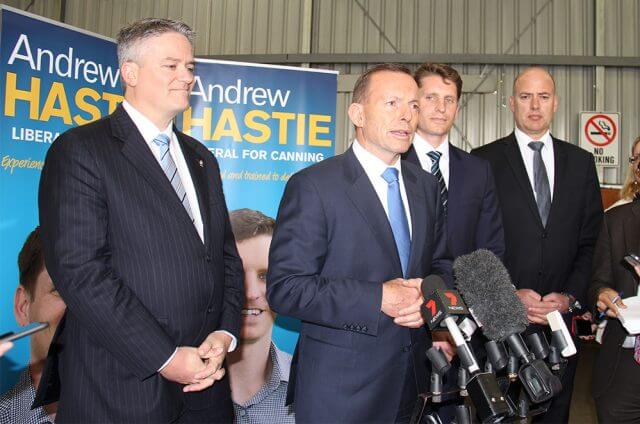 The federal government would deliver $116 million for the Armadale Road duplication between Anstey and Tapper roads.
Prime Minister Tony Abbott made the announcement in Kelmscott at the weekend following a visit to the road a fortnight ago.
"This is a priority project for the Western Australian government," he said.
"It's a project where all the preliminary work has been done, it's a project that is ready to go tender and it is a project that upon completion will be of enormous benefit to tens of thousands of people in the Armadale area."
The state government would contribute $29 million to the $145 million project, which would involve upgrading the seven-kilometre stretch of road to a four-lane dual carriageway.
It was part of a wider push by the cities of Armadale and Cockburn to upgrade Armadale Road for a better east west connection as part of the community connect south campaign.
The two cities also hoped to attract a further $160 million in funding to build a bridge and freeway interchange linking North Lake and Armadale roads.
While Mr Abbott was in the state to spruik Canning by-election candidate Andrew Hastie, the funding would be delivered to the project regardless of Saturday's election outcome.
Mr Abbott said the project would help boost jobs and growth, which were federal government priorities.
"We don't come in to an area and just make announcements willy nilly…if we say something is going to happen it does happen," he said.
Labor candidate Matt Keogh dismissed the announcement as a 'desperate' last minute attempt to save Mr Abbott's job as Prime Minister amid speculation a poor result in the by-election could lead to a leadership spill.
"For weeks Tony Abbott has refused to commit funding to fix the issues people in Canning are most concerned about," he said.
"In the final week before the Canning by-election Tony Abbott has been dragged kicking and screaming to fund the duplication of Armadale Road."
He said Labor had already committed to funding $145 million for the Armadale Road duplication, $25 million to upgrade Denny Avenue and $10 million towards additional cars spaces at Mandurah train station.
City of Armadale mayor Henry Zelones was pleased the funding would be delivered but said it should be remembered it was only for half the community connect south project.
"We'll be continuing on with the campaign and we need to keep the pressure on so it's high on the agenda coming into the next election," he said.
"For me Denny Avenue is the next highest priority project and I understand the Prime Minister went down there on Saturday, so he saw it first hand.
"We've got to fix that and it's been an issue of ours since 2002."
He said work would start soon on the duplication.