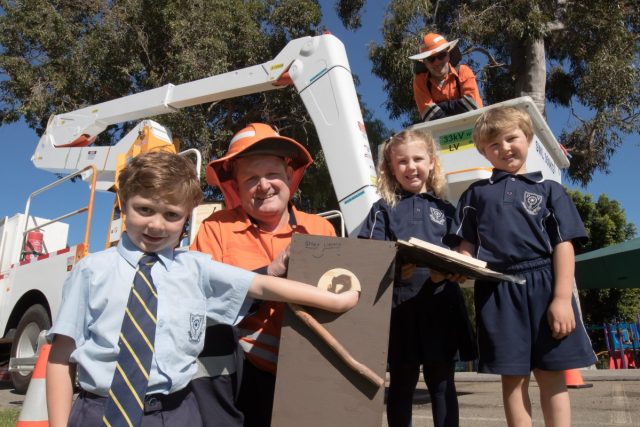 Wild possums, bandicoots and native birds will now have a safe place to nest thanks to the efforts of local students and Western Power representatives. 
Students at Pioneer Village Primary designed and constructed a number of nesting boxes out of plywood and recycled untreated pine wood pallets earlier this term and filled them with tree branches and straw for the native wildlife. 
Western Power representatives installed the boxes last week in the large gum trees in the school's adventure playground, while several bandicoot boxes were also installed in the gardens around the school. 
Teacher Georgina Barnett said the students set up cameras at night to capture what animals were living in and visiting the school's premises. 
"Students discovered several bird species, bandicoots, lizards, a rat and a couple of stray cats," she said. 
"Through the results of the observation, students decided urgent action was required to provide safe havens for our wildlife. 
"A great deal of work was put into the design process and once complete it took students two lessons to complete the construction of all the nesting boxes."
Mrs Barnett said the students gained a greater understanding of the impact of habitat loss and feral animals through the activity. 
"Many people find possums to be a pest as they can decide to make a home in house roofs," she said. 
"By building nesting boxes to provide nesting areas for the possums students hope this will reduce this problem. 
"They also gained skills in using old technology such as hammers, nails, saws and drills."