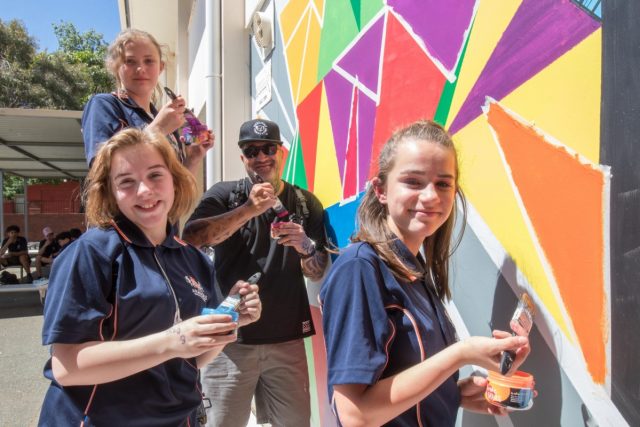 A colourful mural donning one of the walls at a high school has been a labour of love for students who have found the transition to high school a little challenging. 
A total of seven year seven students from Armadale Senior High, together with Art vs Depression founder Gavin 'Gracey' Grace, created the six metre by four metre mural in one of the student areas earlier this year. 
Student services manager Sass Vlasich said the staff saw the project as a pathway for the students to develop a sense of connection with the school. 
"It provided a means to give back to the school community and develop a sense of belonging," she said. 
After speaking to Mr Grace, Ms Vlasich said school staff realised the project also addressed the issues of youth suicide and how important it was to reach out to others. 
"The students have developed a sense of working in a team and have taken great pride in being involved in a project that has created some public art, in which their name and involvement will be part of the school narrative," she said. 
The finished design was collaboratively developed by Mr Grace and the students.