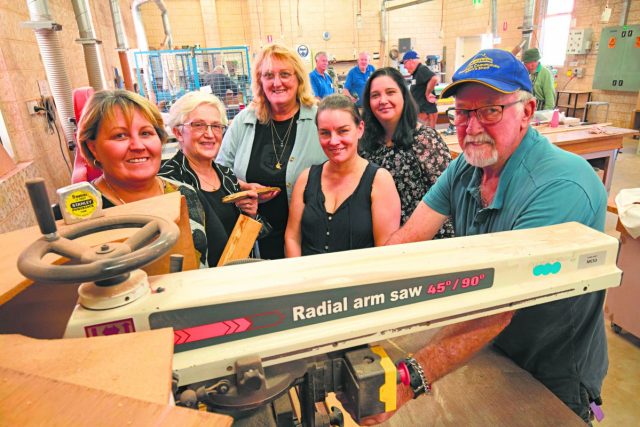 Gosnells Men's Shed is expanding to include women, with a meeting to be held at the Lissiman Street facility to gauge interest in a women's shed.
City of Gosnells Mayor Terresa Lynes said the idea of a woman's shed had been on the cards for quite a while.
"The Men's Shed have been thinking about something like this, but I've had a few people come to me since I've been Mayor and then we've had a chat together and worked out a good solution," she said.
"The meeting this Saturday is just to see who's interested, to see what they think a Women's Shed or Hub would look like, and then we'll move forward and nurture that group to become their own entity, and then we'll work out what we're going to do and we'll talk to the Men's Shed to see how they might support us going forward.
"There will be separate location eventually.
"It's important to maintain a men's shed entirely on its own."
Gosnells Men's Shed's Geoff Wiltshire said there had been subtle pressure from the community to allow females to access the facility, and it was an idea he wasn't opposed to.
"All sheds seem to experience that," he said.
"What the Mayor is suggesting for us is a win-win, where we can assist in establishing a separate shed and be supportive in any way we can.
"Most of the members would probably prefer it remained a male-only precinct but there are other sheds that have females and we're quite open to the concept of having a mixed Saturday morning and one afternoon a week where it's only women with a couple of guys there to assist."
New City of Gosnells resident Krystelle Wootton said it was an exciting opportunity for local women.
"I'm a new resident to the area, I live on the Gosnells side of Canning Vale, so I was interested in the sense of community it might bring and I was looking for something to be involved in, especially while I'm on maternity leave for the next 12 months or beyond that," she said.
"I think new friendships will be a part of it, new contacts as well, but I'd love to do some woodwork – I haven't done that since high school – maybe even sewing or photography, or anything really, I think there will be a range of opportunities.
"I hope we get enough women there on Saturday to get it off the ground."
The meeting will start at 9.30am at the Gosnells Men's Shed.