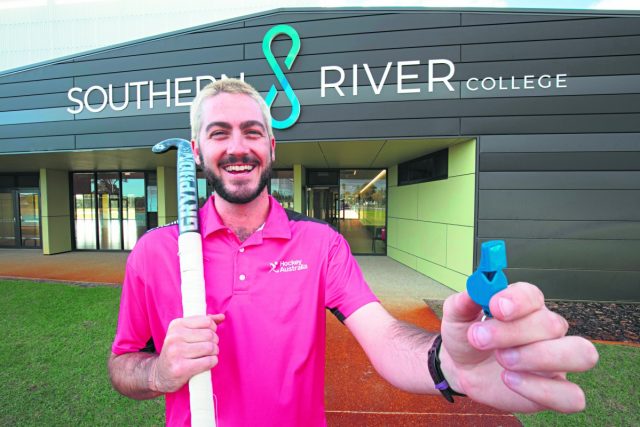 Fresh from umpiring the final match of the Rich Charlesworth Classic at Curtin University's Perth Hockey Stadium, Southern River College teacher Joshua Monaghan flew out to Singapore on Tuesday to umpire his first international tournament.
Not bad for the physical education and maths teacher, who readily admits he took up Hockey umpiring in high-school for a little bit of extra cash.
"I was playing for Suburban Lions Hockey Club in Shenton Park – I still do – and I thought it would be a great job in high school," he said.
"Now I get to travel and meet new people, I absolutely love it.
"I've just come back from Cairns where I umpired at the Under 18s National Championships, I umpired the semi-final there, and I recently umpired the gold medal match of the Rick Charlesworth Classic, and I've done a bunch of premier league games."
He only fond out he had been selected to umpire the Singapore Hockey Invitational Tournament last Sunday before flying out on Tuesday morning, in the middle of a school term.
"I like to go with the flow when I can and it was too good of an opportunity to pass up.
"My head of department and the other staff were really supportive and the principal said it was a great opportunity so I had full support.
"With umpiring, it's all about keeping calm under pressure, dealing with a lot of different skill levels and if the players thing you've made the wrong decision, trying not to take it personally.
"Overall hockey players are pretty good but you'll get the odd one that will have a crack."
Monaghan's mentor at Southern River College, head of department Blair Pasco, said that when she first met him, she had no idea about his talent at hockey.
"He was actually my coach at cricket, we played for the same cricket club and I had no idea about his hockey umpiring.
"There was a job coming up at Southern River and I found a way to get him on the roster and I've been mentoring him on the processes the College uses since then.
She said the whole school was supportive of his surprise trip to Singapore and the lessons it gave to students.
"We're very supportive of teachers' extra-curricular activities in any field they excel in, and it gives students the idea of where they sit in the world.
"When they see a staff member achieving excellence in another field like Josh, they think 'oh, I can do that to' so getting time off during term is rare, but this was absolutely worth it and we're sure he'll do an excellent job."