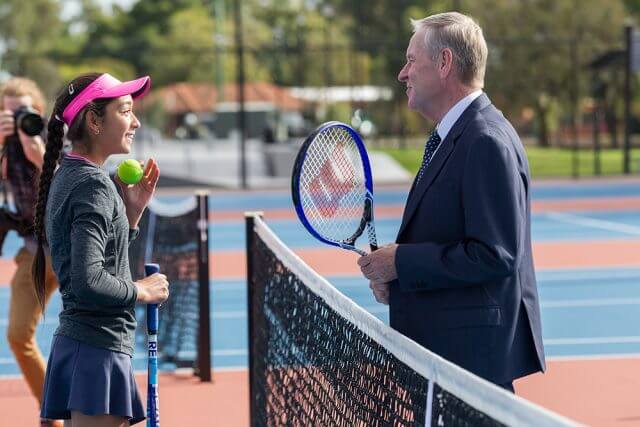 The City of Gosnells has hit a high point with its redevelopment of Mills Park according to Premier Colin Barnett, who opened the stage one of the project last week.
The $47 million redevelopment is the largest infrastructure project ever undertaken by the city.
It has seen the 24-hectare site in Beckenham transformed into a state-of-the-art sport and community facility since work began early last year.
With the completion of stage one, Mills Park now features a six-star green star awarded community centre, nature play space and skate plaza.
It has WA's first synthetic soccer pitches, tennis courts, an oval with kiosk, change rooms, cricket nets, barbecues, shade shelters, seating and network of paths.
Mr Barnett said it had been a big investment by the city and would be enjoyed by different groups of people.
"I have no doubt this will be enjoyed by sporting men and women, girls and boys and the wider community just enjoying this beautifully designed building in this beautiful setting," he said.
"I've been to lots of sporting facilities around the metro area and greater Western Australia and I think the City of Gosnells has hit the high point.
"I have not seen any facility that caters in so many ways to so many different groups and has such a beautiful blend of those facilities in a natural landscape as what (the city has) achieved here in Mills Park."
City of Gosnells mayor Olwen Searle said the project had been particularly successful because of the intense planning in the early stages.
"The results of this project have far exceeded my expectations and Mills Park now shines as a great example of what can be achieved by a large local government with visionary, dedicated and skilled staff," she said.
Ms Searle said the redevelopment was something former mayor Arthur Mills would have been proud of.
Mr Mills, who the park is named after, was mayor from 1952 to 1979.
The redevelopment of Mills Park was largely funded by the city and attracted $8 million in State Government funding, consisting of a $4 million grant from Lotterywest and a $4 million grant from the Department of Sport and Recreation.