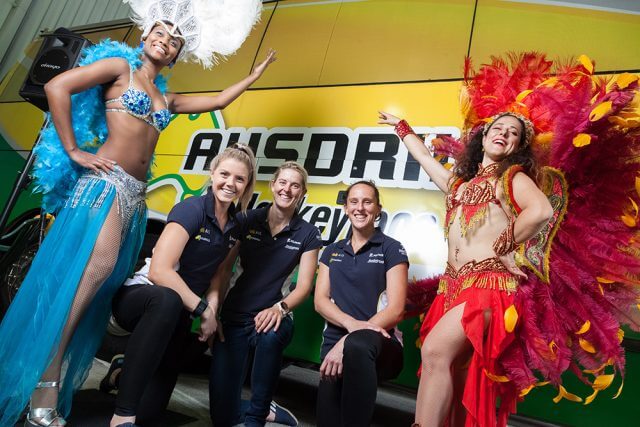 Hockeyroos players were given a taste of Brazil in Canning Vale last week as they prepare to depart for Rio de Janeiro to compete in the 2016 Olympic Games.
Captain Madonna Blyth said the farewell party, hosted by major sponsor Ausdrill, was a good chance to get the whole squad together ahead of the final two tournaments, which will help decide who makes the cut for the Olympic team.
"The selection is still pretty tight and the next couple of tournaments will determine who's playing well and who's in form," she said.
Ms Blyth said there had been a couple of injuries but despite this the players were training hard.
"We train six days a week and most days we do a couple of sessions," she said.
"We're always full time but this year I think it's got an extra dimension to it because everyone's obviously competing, not only to make the team but also to do really well.
"We don't want to be a team that just goes there to make up the numbers."
Ms Blyth said the team also hoped to carry on the success of the Hockeyroos brand.
"I think we're really lucky that the Hockeyroos have such a rich history and we're probably chasing that little bit of success for this group," she said.
The Hockeyroos have won gold medals at the 1988 Seoul, 1996 Atlanta and 2000 Sydney Olympics.
The team's record also includes two World Cups and four Commonwealth Games gold medals.
Ms Blyth said aside from working hard the players also had a wealth of Olympic experience behind them, with most of the players having competed in the 2012 London Olympics.
Ms Blyth and teammate Casey Sablowski also competed in the 2008 Beijing Olympics.
While nerves were still an issue, she said experience would help.
"I think you're still nervous, you get nervous for selection and for matches but knowing what to expect at an Olympic Games is relaxing in a sense, in that you know what the village is going to be like, what it's like to compete at an Olympic Games and I think that helps," she said.
"It's crazy when you go – even the first time you step into that village is overwhelming because there's like 10,000 athletes all living pretty close to each other but once you start the first match and you get nerves out of the way, it's kind of normal but with a lot more interest from the public and the people back home."
The Hockeyroos will compete in the Champions Trophy in London this month with the Olympic team to be announced in early July.
The Olympic Games are set to begin in Brazil in August.
The farewell celebration was held at Ausdrill in Canning Vale, which became a major sponsor of the Hockeyroos in March 2012 in the lead up to the London Olympics.