A local father and football fanatic will soon face his next set of challenges as he gets sized up and learns to walk in his new prosthetic legs. 
Jake Clift spent much of Boxing Day close to two years ago feeling unwell but he was unsure what was causing his symptoms. 
Hopping into the ambulance to Armadale Hospital was one of the last memories the then 28-year-old had of the year 2017 before waking up in a coma 12 days later in the new year. 
Mr Clift was diagnosed with meningococcal (W-strain), bacterial meningitis and septicaemia and his family were told he had just a five per cent chance of survival. 
"They said it was like the equivalent of being hit by a Mack truck," he said. 
"My liver was dying, I think my kidneys were already dead but I had no swelling on the brain. 
"They were afraid I was going to wake up completely different, but I woke up the way I was pretty much."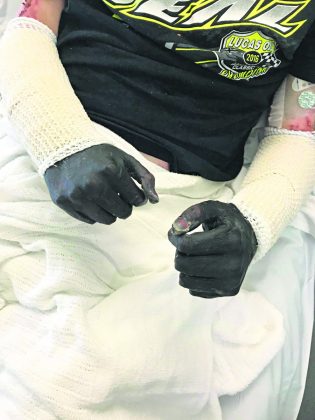 Doctors were forced to slice open both his legs and arms to stop the swelling as his limbs started to turn black and heavy.
"I was in Royal Perth for a month and a bit and the doctors kept saying 'you might just lose your fingers, you might lose this and that'," he said. 
"I then received a visit from a doctor at Fiona Stanley who said he would treat me as a burns patient and within a week they took my hands first and then my legs. 
"Before that I had never undergone any surgeries or broken any bones so my first surgery ever was to get my hands taken off." 
Mr Clift endured a number of surgeries and extensive rehabilitation which involved him having to gain weight and learn to adapt to his new way of life. 
"You can't cry about it, it is what it is," he said.
"When I went to rehabilitation there was people zooming around with L plates and P plates on their wheelchairs and I asked what was going on there as I never needed them, I just got it.
"I can play Xbox, I can use my phone, laptop and wheelchair, I can grab stuff out of the fridge, I can hold a drink and I can eat." 
Mr Clift's road to recovery hasn't been the smoothest, with the soon to be 30-year-old experiencing many sleepless nights, post traumatic stress disorder and phantom pains caused by his severed nerves.
"I have never had a good night sleep since I have been out of hospital," he said.
"Sometimes I would be laying in bed and I would get this shock through my whole body and it feels like someone has walked up to me and kicked me right in the arm or right in the face.
"I have had the worst phantom pains… It felt like my foot was inside my leg and I had to push my foot out of there.
"My hands weren't too bad but I remember it got that bad that the doctors said I had to go on methadone tablets for the pain."
But Mr Clift's recovery journey is soon going to take another turn as he prepares to meet with medical professionals next month who will size him up for his new set of prosthetic legs.
"I will have to go to rehabilitation again to learn how to walk in my prosthetics," he said. 
"I want size 10 shoes, I don't know why but I think shoes look better in a smaller size."