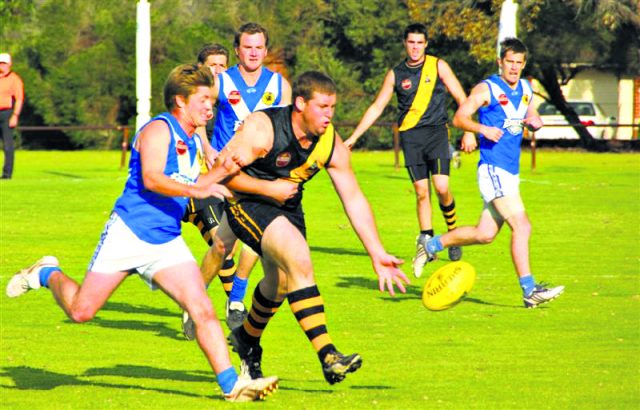 Canning Tigers player Braden Smith has become a life member for the Canning South Perth Football Club after playing over 200 combined colts, league and reserves games for the club.
With a number of achievements Mr Smith has a long history with the club as his dad and uncle played at the club back in the 1980s.
"My mum and dad only live a few 100metres from the ground, so I took a mate from high school and went down to play with the colts in 2004," he said.
"I played in the final colts years of Canning as well as the final years of Canning in the Sunday league."
Mr Smith then transitioned with the club from Sunday league into the D grade amateurs, winning the 2010 premiership, playing as a forward and in the back.
Even after dislocating his patella twice, Mr Smith continued to play a few years of reserves football and later finished with a few years of running the bar and helping out the committee.
"To get my name on the honour board and become a life member does mean a lot," he said.
"My uncle's name is on an old South Perth honour board we have in the rooms, as well as my mum so its good to come down and still feel a small part of the club and community football."
Canning Tigers president Michel Jabbour said it's not easy to become a life member as it's the highest accolade the club can give to a member.
"They receive a life members' pin, their name on the honour board and they don't pay for membership fees for life," he said.
The decision for Mr Smith to become a life member was made by the committee by voting for a number of notable players who meet the criteria over their years at the club.
Mr Jabbour said Mr Smith was a special case because he has lost some records which indicate how many games he's played.
"As a committee it was a unanimous decision that 'Smithy' has met the criteria accumulative to his sponsorship and committee work and we are proud to have him as our newest life member," he said.
"We have saved this for our best and fairest event, where current and past life members induct new life members with the honour.
"In addition to honouring the rest of our award winners for the season."
Come and join the club celebrations on October 5, at the Vic Park Hotel.