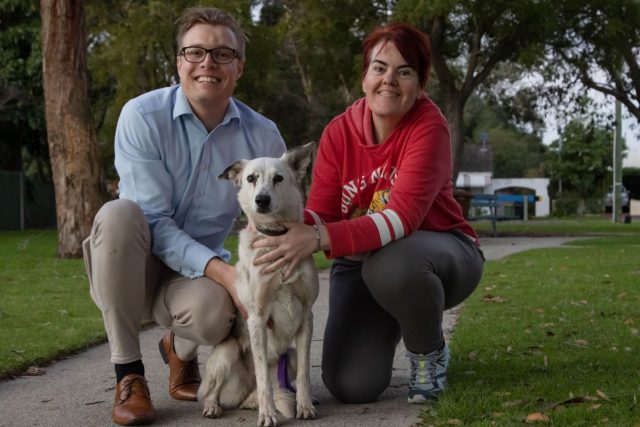 A curious short Border Collie who sneaked out of its home was found and returned home
safely thanks to a local worker and the dog's registration tag.
Chris Tallentire's electorate officer Paul Winter noticed a lost dog, called Rosie, wandering outside the front of his office in Thornlie on June 17.
Mr Winter approached Rosie and encouraged her to come to him and because she had a registration tag, he was able to call the City of Gosnells and contact her owner, Bonnie Miller, who was stoked with the good news.
Ms Miller said her crazy and playful eight-year old Rosie had already snuck out several
times but this time it was a contractor who mistakenly left the gate open after he had left
their property.
"I wasn't in the house when Rosie left, but my son called me and said he was running
around like a crazy person looking for Rosie," she said.
"I then received a call from Paul who said he was nearby our house and could drop her
off.
I am so thankful and happy knowing Paul found her and decided to call the city instead
of the animal pound which we would have had to pay for.
"It was so lovely that he even came over to our house and returned her personally, we are happy to have her back."
Mr Winter, who said accidents like this can happen, said it is important for residents to
ensure their animals are microchipped and that their registration is on their collars and
up to date.
Member for Thornlie Chris Tallentire also encouraged the community to have their dogs
registered and microchipped so that it gives pets the best chance of being returned home
if lost.
"Our pets are like family and it is devastating when you hear stories of animals that are
missing and cannot be located by their owners," he said.
"Whether it be a gate not being closed or a missing lock, our inquisitive and curious
animals can sometimes become lost through no fault of their own.
"I can confirm that Rosie was very brave and is over the moon to be reunited with her
owners.
"A big thank you to the City of Gosnells for their fantastic registration data base and superb administrative team in helping us get Rosie home."