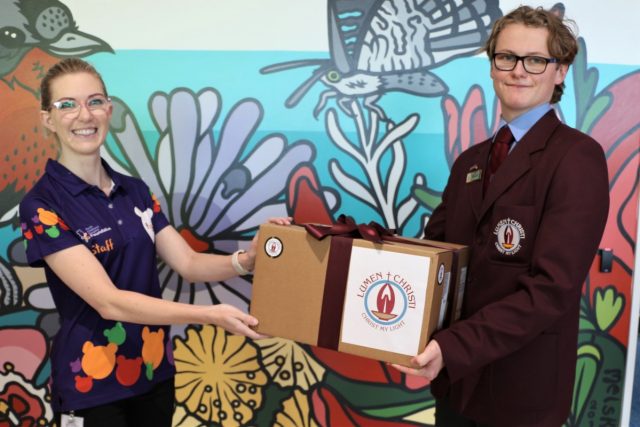 Student leaders from Lumen Christi College donated 14 iPads to the Perth Children's Hospital Foundation on behalf of the college last Friday.
The iPads were no longer being used at the college and student leaders and staff
decided to nominate the hospital as a worthy recipient.
The donation will be used in various departments throughout the hospital, including the Hospital Foundation's Fun on Four hub, the Child Protection Unit and the Refugee Health Service Deputy head girl and head boy Avneet Gill and Harrison Chowdhurie visited the hospital and said it was an eye-opening experience.
"It was amazing to hear how so many different departments within the hospital will benefit from our donation," they said.
One particular take away that we took was the realisation that a small gesture from our side means so much to those at the hospital.
"Our visit has given us perspective on the importance of having a support group in the community, the importance of volunteering, and how a small gesture can have
a massive impact on the lives and wellbeing of others."
Student leaders were also given a tour around the hub and they were able to see all the entertainment and activities that are available to patients, families, carers and visitors.
A Certificate of Appreciation and gift from the hospital's foundation was given
to the student leaders, and they will be displayed at the college.
The Perth Children's Hospital Foundation depend on generous donors, corporate partners and dedicated volunteers and fundraisers to keep them at forefront of children's health.
Anyone interested in donating or volunteering is encouraged to visit opportunities pchf.org.au/get-involved/.