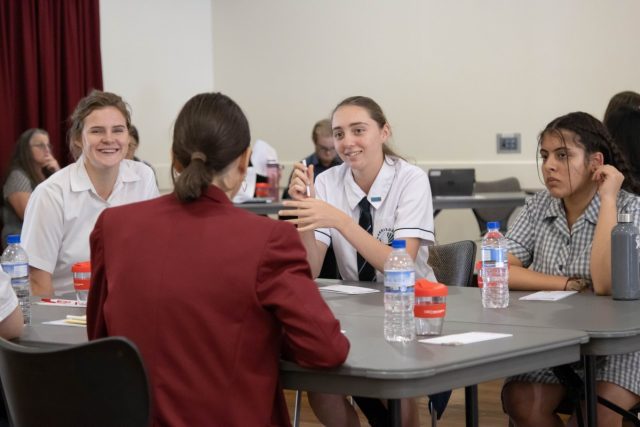 Students across Perth's south-east have returned to their classrooms more than a month after the state government first encouraged parents to keep children at home in a bid to curb the spread of coronavirus (COVID-19). 
On April 17, the state government announced that the state's public schools would reopen for parents who choose to send their children to school in term two – as well as a $43 million commitment to enhance school safety and cleaning regimes. 
It is understood that less than 60 per cent of students across the state returned for day one of term two on April 29. 
However, those figures are understood to have increased to 71.5 per cent during the second week, coinciding with confirmation that there were now just 14 active cases of coronavirus (COVID-19) in WA. 
Those figures were very much reflected locally, according to Byford Secondary School principal Paul Jones. 
Since late last term, Mr Jones said the college had been meeting daily to discuss the COVID-19 changes for the day and how it would respond, as well as preparing for both online and the students' return. 
Like many schools across the state, Mr Jones said the college had been busy implementing the new cleaning and safety guidelines provided by the Department of Education and praised staff for their response to the crisis. 
"Our college staff have done an amazing job of being agile in these uncertain times," he said.
"Our community is indicating that they feel supported and engaged so I think that is why they have returned to face to face so quickly – they feel safe I think." 
Armadale Senior High School principal Carol Daniels echoed Mr Jones' sentiments, confirming that the learning of the students was the school's top priority and that staff had spent several weeks preparing three modes of curriculum delivery – including online, face to face and hard copy work packages. 
In fact, it is understood the school has since employed relief teachers to help support the new three-mode delivery system as well as additional cleaning staff to ensure the state's enhanced cleaning requirements were met. 
Mrs Daniels told Examiner Newspapers the school had also opted to stagger recess and lunch breaks and encouraged staff to socially distance within staff areas. 
"Armadale Senior High School has had a positive start to term two," she said. 
"We expect more students to return to school as term progresses. 
"Our students were excited to be back at school and teachers were happy to have them back. 
"Out of COVID-19 has come ingenuity, collaboration and a desire to ensure the best for our students, regardless of circumstance." 
The state government has vowed to review the current arrangements at the end of next week.