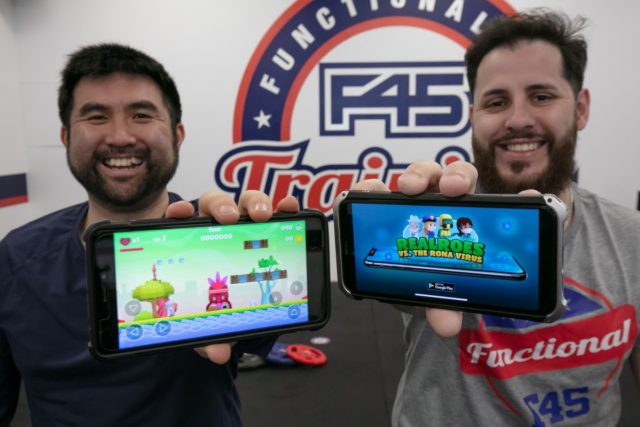 Like many small business owners across the country, Armadale man Aaron Yeak and business partner Ren Sanchez were forced to close the doors to their F45 gym when COVID-19 hit earlier this year.
The self-confessed nerds soon found themselves with plenty of time on their hands while in isolation and set about channelling the energy they would have otherwise spent training into their second love – gaming.
As the son of two nurses, Mr Yeak said he was determined to create a free game that would provide an incentive for people to stay indoors while also highlighting the work of those on the frontline during the global health crisis.
"My parents are both nurses and I'm a PMH baby myself, so I've always been supported by real life heroes," he said.
"Those in our gym are involved, too – they're teachers, nurses, police officers.
"We're not software developers, but we're a bit nerdy and enjoy a bit of tech.
"We figured this was a great way for us to pay tribute to those on the frontline – the real heroes – and inspire that next generation to consider taking on one of these professions."
The amateur web developers from Perth's south-east stumbled into the software world by founding web and mobile development company DocBrown Labs and embarked on a four-month journey to create 'RealRoes' – a fast-paced game that allows you to travel through the world as a scientist, police officer or nurse and try to get rid of the virus.
In the last fortnight the game, which is available in several languages, has been downloaded more than 1000 times by people around the world – something Mr Sanchez said he was not anticipating.
"We have been very surprised by how well it has been accepted by the community," he said.
"We are still in the process of launching the app, but it was huge for us and we expect the downloads to increase exponentially over the next couple of weeks.
"We're receiving feedback from people all over the world.
"It creates some fun in that really complicated moment that they're living and it creates an incentive for people to stay home and isolate ourselves to stop the spread."
The app is available now on Android, with DocBrown Labs set to contribute revenue generated by the game to the Australian Nursing Federation.
The pair are also in the process of working with Apple to have the game made available to Apple users.
While both Mr Yeak and Mr Sanchez are now back at work, the pair admit they've found themselves distracted by their own game.
"Look, we have been playing it – we can't do burpees all day," Mr Yeak said.