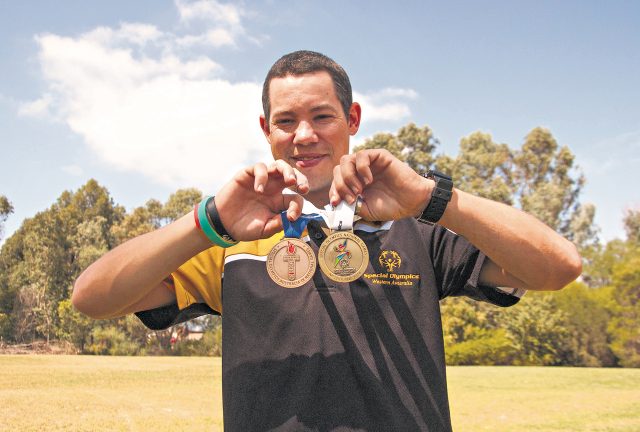 Debbie Woods said events like the Special Olympics had given her son a great deal of purpose in life.
Mrs Woods and her 32-year-old son Shayne Skerry will head from Seville Grove to Adelaide next month to compete in his third consecutive Special Olympics Australia National Games.
Shayne was picked alongside 75 West Australians to compete in events including the 100-metre sprint and shot put.
Mr Skerry has autism and global development delay, which means he does not talk much and thus struggles to socialise, and his mother said his disability has sometimes made it a challenge to teach him important lessons.
However, one area it was not hard to motivate him was on the sport field, and Mrs Woods said she had found mental disability-supportive competitions gave her son a comfortable environment to push himself and meet people like him.
After representing WA in 2010 and taking home gold – which he would win again in 2014 – the family was hit with tragedy when Mrs Woods' husband died, an event she said hit her son hard.
After the removal of his favourite sport of softball from competitions around that time they sought something to fill the gap, and it did not take long to find something he excelled at.
"Athletics he's never done before, but he seemed to pick it up," she said.
"I'm amazed at what he can achieve, just by training and listening to his coaches."
Mrs Woods said she hoped support for the Special Olympics and programs like it would grow in coming years.
"There's still some highly mentally disabled people who go to these games and do really, really well," she said.
"They need to be recognised."
Mr Skerry said he hoped to make more friends with disabilities like his in Adelaide, after forging friendships at games in the past.
"I can't wait," he said.
The family has raised most of the $3400 it needed to travel to Adelaide for next month's competition, but donations to individual athletes or the West Australian team are still being accepted at specialolympics.com.au