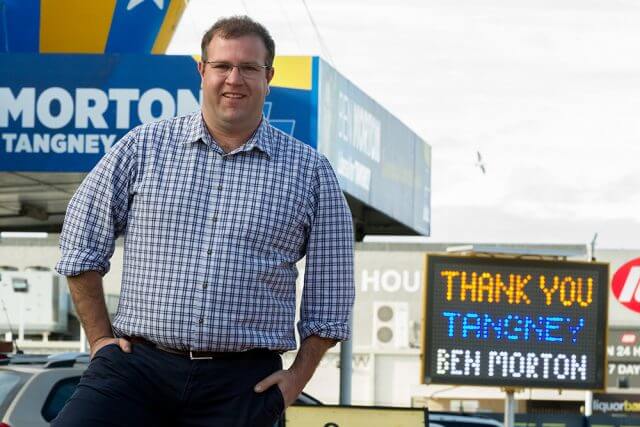 The Liberal stronghold of Tangney has remained a safe seat for the party despite huge swings nationally against the Coalition following Saturday's federal election.
As of this morning, former WA Liberal party state director Ben Morton had taken out the seat of Tangney with 49 per cent of the primary vote and held it with an 11.5 per cent margin on a two party preferred basis.
It was expected once postal votes were counted he would take the seat with more than half of the primary vote.
The party's primary vote margin experienced a swing of 6.5 per cent away from them, which could have been due to former Liberal Party member and Tangney incumbent Dennis Jensen's 8000 plus votes.
Labor's Marion Boswell had 23 per cent of the vote while the Greens' Thor Kerr secured almost 12 per cent of the vote, a 0.9 per cent swing towards the party.
In Swan, Liberal member Steve Irons has been returned despite a 4.2 per cent swing against him, winning the seat by just 3.14 per cent on a two party preferred basis.
In primary votes Labor's Tammy Solonec experienced a 3.8 per cent swing towards the party with 34 per cent.
The Greens' Sarah Nielsen Harvey also had a strong showing securing 14.4 per cent of the vote, a swing of 3.17 per cent to the party.
Nationally the Coalition experienced a 3.7 per cent swing against it while Labor and the Greens experienced a 1.9 per cent and 1.3 per cent towards each respectively.
The results left the future leadership of the country on a razor's edge, similar to the hung parliament in 2010 election.
Mr Morton said he was humbled to have been elected as member for Tangney.
"It's a great piece of Western Australia to represent, it's a great piece of Australia to represent so there's nothing more humbling than giving the privilege of representing the people where you live," he said.
"The hard work starts now, obviously throughout the campaign I worked hard to introduce myself to the people of Tangney and over the next few months as the newly elected member I'll be continuing that introduction of myself throughout the electorate."
Mr Morton believed the swing from the party was influenced by Labor's Medicare privatisation scare campaign.
"There was a scare campaign in order to get people to vote a particular way which isn't something I'd be particularly proud about if I was them," he said.
When asked whether Malcolm Turnbull's Coalition leadership was in doubt because of the close results, Mr Morton said he "would be a great prime minister for this country".
Mr Irons, who won his seat for the fourth time, was happy to still represent the people of Swan.
He believed the Medicare privatisation scare campaign hit a note with voters.
"I know I had a lot of phone calls about it and a lot of people who wouldn't have rung just believed it and voted against us so it was a very clever lie but it was one that bit into the constituency," he said.
He had heard no rumours of leadership spills following the close results.
"I've had no phone calls," he said.
"You know when leaderships are in doubt when you get phone calls and I haven't had one from any colleague.
"If there was any move towards it the phones would be going berserk."