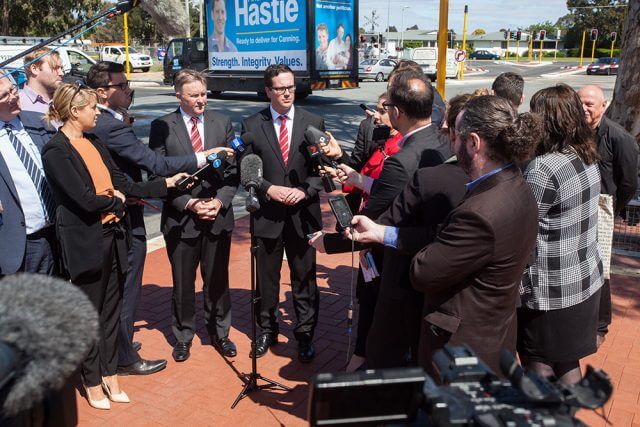 Labor's Canning by-election candidate Matt Keogh was banking on dissatisfied electors using their vote to protest against the current government to help him get across the line.
Mr Keogh said despite his party being in opposition he didn't think voters would be put off by the Liberal party's ability to deliver funding versus his party's promises.
"When people look at the commitments the other side has set out they'll have it in the back of their heads that they've been asking for these things to happen for a long time but they haven't been delivered," he said.
"Whether it's state or federal projects, it hasn't been done and it's taken a by-election to start talking about it.
"Having seen the record of this government and the fact that it hasn't done anything for the people of Canning for the two years it's been in power, I think people are going to come in with a bit of reticence.
"I think there's a clear protest vote out there, people want to see a positive change in this community and that's what I want to be as a member."
Mr Keogh said the biggest difference between the two major parties was that Labor was willing to go beyond federal issues and support classic state issues, like public transport.
"We all know the state's ability to deliver on public transport, health and education is contingent on federal funding," he said.
"The Liberal's won't fund public transport but Labor is always committed to funding public transport because it's so vital."
Mr Keogh was unsurprised at the sudden change in prime minister this week and believed it would not help Liberal chances.
"A lot of people were p#@sed off at Tony Abbott but they're also p#@sed off at the government," he said.
"Malcolm Turnbull has said before and he said yesterday that he supported the direction of this government."
Mr Keogh said despite his party's history of changing prime ministers three times in three years, Labor was now a unified front led by Bill Shorten.