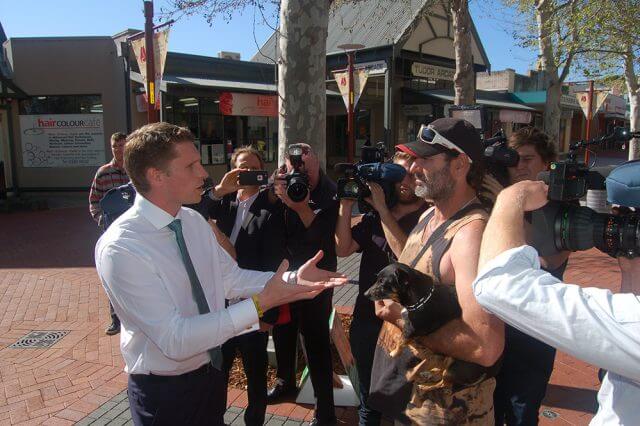 Liberal Canning by-election candidate Andrew Hastie said the biggest thing he had learnt over the past four weeks was that residents in the electorate were 'refreshingly' upfront with the issues they were passionate about.
Mr Hastie said during the by-election campaign he found some of Canning's best attributes were its diversity and honesty of its residents.
"It's so diverse, you've got orchardists in Karragullen, retirees in Mandurah, miners in Boddington, cattlemen in Waroona, its amazingly diverse," he said. "What's been refreshing is how upfront and blunt the people of Canning are about what they think and I think that's a great characteristic."
Mr Hastie said there were key issues that kept coming up over the campaign including infrastructure, internet black spots, ice and job security.
"People are worried about job security, people want action and leadership on ice and they want more infrastructure investment, particularly in roads," he said.
He said he had already received a $145 million commitment for the duplication of Armadale Road from state and federal governments and he would continue to raise the Denny Avenue issues with Prime Minister Malcolm Turnbull.
"The Armadale road duplication was the main thing the people of Armadale were concerned about," he said.
"I was informed that Cockburn station has 1200 parking bays and 600 of those are used by the people of Canning each day so that arterial running east west on Armadale road is important not just for families commuting but certainly people whose jobs depend on it.
"(Denny Avenue) is something I'll continue to work on but I'll be speaking with the Prime Minister throughout this weekend keeping him updated on the campaign and that's something that I'll definitely raise."
Mr Hastie said action on ice was a key difference between himself and Labor's Matt Keogh.
"We're both for education, we're both for rehab, we're both for prevention strategies but ultimately the point of difference, and this is really important to the people of Canning is my position on mandatory sentencing," he said.
"I believe if you sell drugs to a kid or if you harm a kid during the manufacture of drugs I believe you should go to jail."
Mr Hastie said despite mandatory sentencing being a state issue he would lobby state ministers to get action.
When asked whether Mr Turnbull would visit before Saturday Mr Hastie said a 'schedule was yet to be confirmed'.
"He's been very supportive of me, Julie Bishop, the deputy leader, has been very supportive of me, if they come out again then that would be great but that schedule is yet to be confirmed," he said.
"I'd welcome both of them particularly the Prime Minister, in support of my campaign."