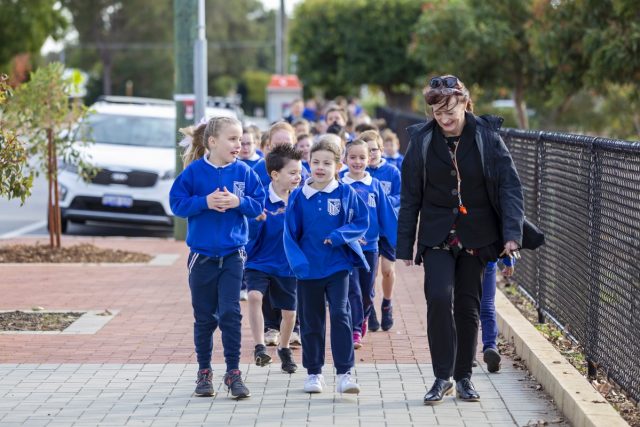 Students from a local primary school now have a newly renovated building to use for their annual graduation ceremony and other out-of-school functions. 
Kelmscott Primary utilised the $2.1 million refurbished Kelmscott Hall last month for its assembly which saw them cut the ribbon for an official opening. 
Deputy principal Alison Aldersea said the school has a long history with the hall and nearby Rushton Park. 
"In the 1960s and 70s the hall hosted P&C functions, school musicals and other important events as we did not have our own undercover assembly area," she said. 
"The school regularly uses Rushton Park for sporting events and the new hall gives us a chance to hold major events there to make use of the new upgraded facilities." 
The redevelopment was a result of the City of Armadale's Rushton Park master plan, which was endorsed by council in September 2013. 
Mayor Henry Zelones said work started on the project in 2017. 
"The upgraded hall features a new entrance and reception area, a new front and rear veranda, an additional lesser hall and upgrades to the change rooms, kitchen equipment, toilets and flooring," he said. 
"The upgrade has lifted the overall standard of the building, significantly modernising the hall and ensuring continued use and enjoyment of the hall by the local community." 
The hall will be hired regularly by a badminton club, two drama groups and two martial groups and is also suitable for concerts, plays, dances, fundraising events, the annual Kelmscott Agricultural Show, the annual Pioneers Reunion and citizenship ceremonies.