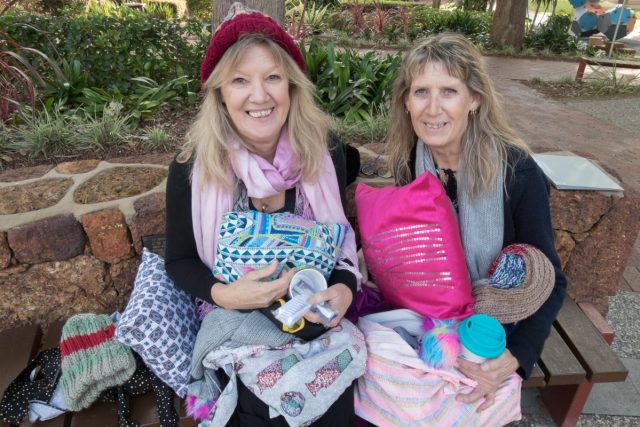 A chance encounter with a homeless man in the Perth city centre last year prompted two sisters to spring into action and make hundreds of handmade items for those sleeping rough on our streets. 
Deb Woods and Linda Skerry drew on the skills they learnt in their home economics classes in school and bought all of the materials needed to make a staggering 203 handmade bags for homeless people within the Armadale district. 
The bags have been filled with hand made woollen scarves, beanies and pillows made by the ladies and other items such as a coffee mug, toiletries and sanitary items that have been donated by friends, family and local businesses. 
Ms Woods said they are now reaching out to local organisations to help them distribute the bags to those who are really in need in the community. 
"The support we have received through social media has been phenomenal," she said. 
"We are so grateful to all that have helped us out, especially Marlene Pereira who taught me how to sew and Rachel Payet for giving me a sewing machine after mine broke down." 
Member for Armadale Tony Buti said homelessness is an issue in many areas of Perth and Armadale is not excluded from the problem. 
"Twenty years ago there was no visible homelessness in Armadale and there is obvious visible homelessness in Armadale now, or people that are close to the brink," he said. 
"It is a very complex issue that I think governments of all persuasion have to work together to try and rectify. 
"Everyone should have a roof over their heads." 
The sisters will be visiting Memorial Park tonight to distribute the bags with the assistance of not-for-profit organisation Street Chaplains.