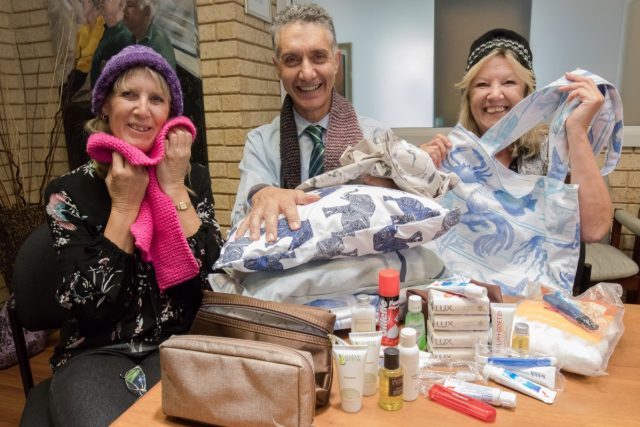 A casual stroll through the Perth city centre late last year alerted two sisters to just how terrible it is to be sleeping rough on our streets. 
Seville Grove resident Deb Woods and her sister Linda Skerry were walking through Wolf Lane in Perth last year and came across a homeless man lying on the ground with no shoes, no pillow and no blankets on a freezing cold night. 
Ms Woods said it broke their hearts to witness the man's plight and they immediately started thinking about how they could help.
"I am a cook and I thought about opening a soup kitchen but there are quite a few of those around," she said. 
Instead the sisters drew on the skills they learnt in their home economics classes in school and bought all the materials, including a new sewing machine to start making bags full of belongings for those doing it tough on the streets. 
"We make the cotton bags and then fill them with a handmade pillow and pillow case, a knitted scarf and a beanie," she said. 
"We have called it Sisterly Love for the Homeless and so far have made 50 bags but hope to make 200 before July. 
"I didn't realise how hard it was going to be in the beginning but we are getting there and we hope to recruit another sewer to come on board and help with the cause." 
The sisters have since met with Member for Armadale Tony Buti to discuss how they could distribute the bags fairly to people in need in the community, both in Perth and the local area. 
Mr Buti donated $300 towards the cause, which will go towards the materials to make the bags and garments, as well as toiletries and non-perishable food items to go inside the bags. 
Mr Buti said he was proud to support these two women in their selfless act. 
"Life has not been easy for Deb and Linda but in the face of their own adversities they can still find the time to help people in need," he said. 
The sisters are currently looking for a keen sewer to help out with the project, as well as donations of material or items for the bags. 
If you can help out, email Deb on [email protected]