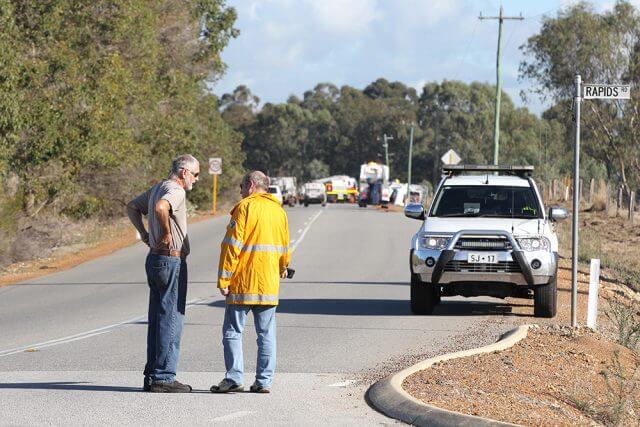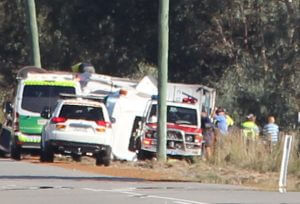 Karnup Road in Serpentine has been reopened in both directions following a livestock road train roll over this morning.
The road train had three trailers loaded with pigs and rolled on a bend in Karnup Road near Rapids Road just before 8am.
The driver was uninjured but several pigs died and many more were injured.
Karnup Road resident Adam Fairey was tending to horses nearby when he heard the crash.
"We work our racehorses right next to the road and I saw the semi go past and there was a really loud crash and there was a heap of dust flew up everywhere and I was pretty sure what had happened straight away," he said.
"All the pigs that were in the top had come out, there was probably 10 to 15 dead ones straight away and the rest had run out onto the paddock next to Rapids and Karnup (roads).
"Pigs make a fair squealing noise at the best of times but there was a lot of noise and there was a lot of people and it wasn't a very pretty sight."
Department of Agriculture and Food officers and Shire of Serpentine Jarrahdale rangers attended the scene to help catch the pigs.
A department spokeswoman said they were advised of the incident and two livestock compliance officers who were in the area offered assistance at the scene.
"The animals were managed by the livestock owner and transporter in consultation with a private veterinarian," she said.
It is the third major crash on the same stretch of road in six months including two recent fatalities.
Mr Fairey said the bend is a notorious spot.
"We've had two crashes in the space of a week but the amount of near misses we see, there's probably a near miss every week," he said.
"The difference between a near miss and an actual tragedy is not really much some days."