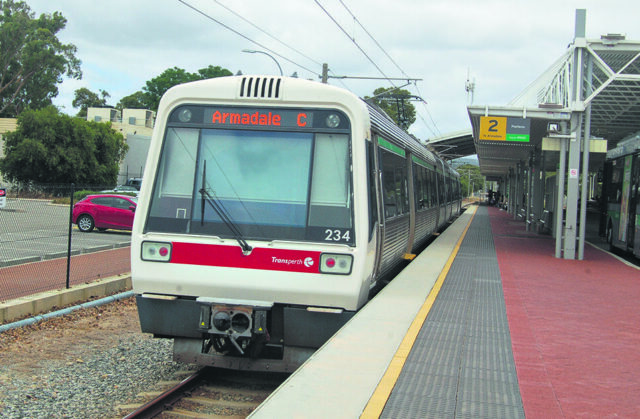 The Armadale/Thornlie line will officially close on Monday to allow the state government to complete a number of station upgrades, level crossing removals, and to construct the long-awaited Byford Rail Extension.
The state government has said the closure will last for 18 months.
Seven new and five enhanced bus routes, and 104 more buses will be introduced to compensate rail passengers.
The whole line – from Armadale to Perth – will be closed for three days from Monday to Wednesday so Metronet crews can complete works to allow trains to turn at Victoria Park.
From Thursday until mid-2025, the line will be shut down between Armadale/Thornlie and Victoria Park stations.
The line shut down will also have an impact on services for Optus Stadium special events.
Metronet has advised rail users to familiarise themselves with the new bus routes ahead of time. They have also asked passengers to prepare for an increase in travel times in spite of the new bus routes.
"The Armadale/Thornlie Line is Transperth's third busiest train line. Even with a comprehensive bus network, priority bus lanes and other upgrades in place, travel times will be longer," – PTA
In fact, a peak hour passenger's commute is likely to double come Monday.
Using the Transperth Journey Planner, The Examiner has calculated that a journey at 8am today from Armadale Station to Perth Station will take 37 minutes.
But on Monday, that same journey is expected to take 61 minutes, using the new 529 bus route to Cockburn Station and then boarding a train on the Mandurah Rail line.
The new limited stop 221 bus route which travels along the Albany Highway from the Armadale Station to the Perth Busport could take up to 80 minutes to complete a one-way trip during rush hour.
Last weekend Metronet hosted Bye Bye Boom Gate events at Cannington, Carslisle and Armadale where members of the community were able to approach staff with any questions they might have.
But there are still many questions and much confusion circulating online.
Some are worried about the lack of suitable bus shelters, especially during the wet of winter. Mobility Scooter users are also worried about accessibility, with some models of scooter unable to fit on buses.
Metronet has directed those affected to make use of the Taxi User Subsidy Scheme or the St John Community Transport service.
And others are worrying about the impact the increase in buses will have on already congested major arterial roads through the area.
"With the anticipated increase in traffic along Albany Highway, are there any plans on traffic management around Carousel shopping precinct as this is a nightmare with current traffic volumes, Alan Dolphin asked.
A spokesperson for Metronet said that "bluetooth, CCTV and electronic message boards will be introduced at key locations along the south-eastern corridor to provide drivers with real-time traffic information to manage congestion".
Some are projecting scepticism at the 18-month timeline, and others are questioning why the shutdown isn't happening in stages.
"Can you promise me this will only take 18 months?" Christine Diane asked.
Transport Minister Rita Saffioti has previously vowed that the line would reopen on time in May 2025.
"If you look at what impacts the delivery of major projects across the state or across the nation, it's service relocation because that is always the unknown when you go into an area," she said.
"That's nearly complete, which is a major project in itself.
"Key risks have been eliminated so I'm very confident that will be done within the 18 months."
Metronet has advised that during the Armadale Line shutdown, electricity will stay switched on in the rail corridor, meaning there will still be live power within the rail corridor.