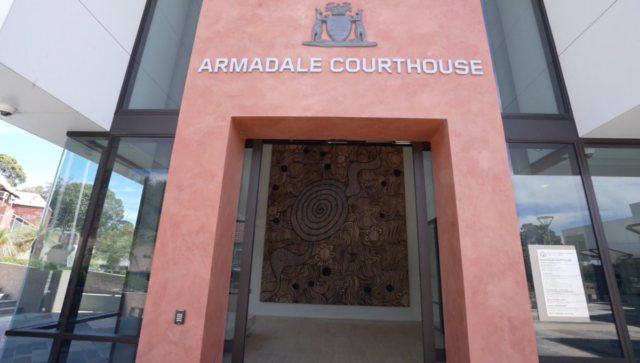 A man responsible for leading police on a high-speed chase along the Brookton Highway in August has been jailed for 10 months.
On August 18, Peter Warren Whyte, of Manjimup, entered a commercial shed in Pemberton and stole a number of tools which he later hocked.
He also stole an Isuzu truck.
Four days later, police cornered him in the drive-through of Kelmscott McDonalds, while driving the stolen truck.
He quickly reversed and drove at speed up the Albany Highway before turning onto the Brookton Highway, with police in pursuit.
Police alleged he was driving at speeds of up to 140kph.
His lawyer challenged that fact in court, stating the truck involved was incapable of reaching those speeds.
He was arrested and has been in custody at Bunbury Regional Prison since September 12.
He appeared via video link at the Armadale Magistrates Court on Tuesday for his sentencing.
His lawyer said Mr Whyte had a history of drug use, but had recently started to turn his life around.
She said when his dog passed away earlier this year, he became "distraught at the loss" and "everything spiralled from there".
Magistrate Brian Mahon said while he would take into account Mr Whyte's early guilty plea on all counts, that a prison sentence was inevitable.
He was given a concurrent jail sentence of 10 months for all charges, backdated to September.
"It's rather shorter than owners of the industrial unit might enjoy, but I'm looking towards rehabilitation here," Magistrate Mahon said.
"I'm making it clear here that I've given you a fair go. If you're before me again for commercial burglary it'll be a two-year minimum."
He also said he didn't "have a choice" but to permanently disqualify Mr Whyte from driving as it was his third driving offence within a 20-year period.
Man caught driving on wrong side of Corfield St
A young driver who was caught driving on the wrong side of Corfield St after drinking heavily has been disqualified from driving for 18 months.
He appeared at the Armadale Magistrates Court on Tuesday for his sentencing.
Brodie Jaymes Upson, 24, chose to drive his mates home after a party on October 29.
Police arrested him in Gosnells for reckless driving after he drove towards them in his Kia Serrato on the wrong side of the road.
His blood alcohol reading at the time was 0.181.
His lawyer said after trying to book an Uber which was cancelled on him, Mr Upson made a "split-second bad decision" and asked for Magistrate Brian Mahon to consider a spent conviction.
She said he had since lost his job as a concreter as a consequence.
"I'm aware it impacts your work, but I cannot grant you a spent conviction," Magistrate Mahon said.
"It gives me no pleasure, but what you did was foolish. You made the decision to drive with others in your car. You were nearly four times the legal limit, and you are a young, inexperienced driver.
"This is a serious issue and you need some time off the road."
Mr Upson was disqualified for a cumulative period of 18 months for the two offences. He was also fined $2500 for reckless driving, and $1700 for driving under the influence.
Man pleads guilty to cigarette burglary spree
On Tuesday, Dylan Kane Whitby pleaded guilty to a string of burglaries across the south east.
On May 16, Mr Whitby – along with others – stole more than $5000 worth of cigarettes from Woolworths in Byford.
The next day Mr Whitby and his accomplices stole over $5000 in cigarettes from Roleystone BWS.
Then again, on May 18, the group hit up a store in Kenwick.
Finally, on June 10, Mr Whitby and a number of others stole cigarettes from Kelmscott IGA Express, totalling more than $7000 in value.
After originally pleading not guilty to all charges, Mr Whitby changed his plea to guilty at the Armadale Magistrates Court on Tuesday, November 14.
He will be sentenced in Perth Magistrates Court on January 31.